Slide show features Trashion Show 2009
* View the slide show by clicking the thumbnails.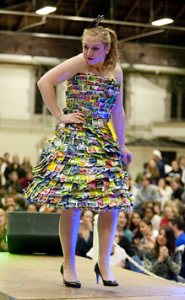 The fourth annual Trashion Show, held Nov. 18 in the Gray Cage, followed the annual Harvest Meal. Surrounded by desserts, the Bates community gathered to witness the year's most stylish "green" event, a fashion show that raises awareness of the trash we produce and the recycling initiatives aimed at minimizing it. See some of the one-of-a-kind runway designs, featuring strutting models and proud designers, here. Photographs by Phyllis Graber Jensen.
View Comments