Folk-pop legend Suzanne Vega holds two-day residency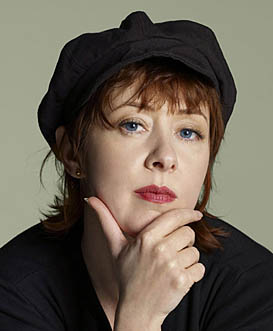 As part of a two-day residency at Bates College, folk-pop singer-songwriter Suzanne Vega performs two concert sets, at 7 and 9:30 p.m., on Saturday, Jan. 23, in the Olin Arts Center Concert Hall, 75 Russell St.
Tickets are $15 for general admission and $5 for seniors and students per set and are available at www.batestickets.com. For more information, contact 207-786-6135 or this olinarts@bates.edu. The concert is presented by the Bates Concerts Committee.
Vega's residency includes two workshops on Friday, Jan. 22, in the Olin Arts Center. She offers a creative writing session at 2:45 p.m. in a room to be announced, and a workshop on the business of the arts at 4:30 p.m. in the Olin Concert Hall. They are open to the public at no cost. Preregistration for the creative writing workshop is required via e-mail at this olinarts@bates.edu.
Vega is one of the most influential figures in the modern folk movement. Her performances have been described as "intensely reflective" by the Portland Press Herald and "nearly perfect" by The Boston Globe. Her songs include "Luka," which reached No. 3 in the Billboard Hot 100 in 1987 and was one of the first popular songs to address child abuse and domestic violence.
Born in California, Vega grew up in New York City's Spanish Harlem and Upper West Side. She picked up the guitar at age 11 and was writing songs as a teenager. She studied dance at the High School for the Performing Arts and later majored in English literature at Barnard College.
In 1979, influenced by a concert by singer-songwriter Lou Reed of Velvet Underground fame, Vega began to develop her own distinctive style of contemporary folk. Soon she was playing iconic venues like the Bottom Line and Folk City.
Her self-titled debut album was released in 1985, co-produced by Steve Addabbo and Lenny Kaye, former guitarist for Patti Smith. 1987's follow up, Solitude Standing, elevated her to star status. The album, hitting No. 2 in the UK and No. 11 in the United States, was nominated for three Grammys, including Record of the Year, and went platinum.
Vega's neo-folk style ushered in a new folk-pop singer-songwriter idiom that would ultimately include the likes of Tracy Chapman, Shawn Colvin and the Indigo Girls. In 1997, Vega joined Sarah McLachlan on her Lilith Fair tour, which celebrated the female voice in rock and pop, and became one of the few artists invited back every year.
Vega also hosted the public radio series "American Mavericks," 13 hourlong programs featuring the histories and music of the iconoclastic composers who revolutionized contemporary art music. The show won the Peabody Award for Excellence in Broadcasting.
In 2007, Vega released Beauty & Crime (Blue Note Records), a deeply personal reflection of her native New York City in the wake of the loss of her brother Tim and the tragedy of Sept. 11.
Vega has dedicated much of her time and energy to charitable causes, notably Amnesty International, Casa Alianza and the Save Darfur Coalition.
View Comments