Performance of Indonesian music, puppetry scheduled at Bates
The Bates College Gamelan Orchestra, joined by Indonesian puppeteer Apep Sobani and by composer Wahyu Roche, performs in concert at 8 p.m. Saturday, March 13, in the Olin Arts Center Concert Hall, 75 Russell St.

The program includes listening music, featuring compositions written for the Bates ensemble by Roche, and a performance of the Indonesian puppetry style called "wayang golek," which employs three-dimensional figures controlled with wooden rods. A wayang golek workshop, open to the public at no cost, takes place a few days prior to the concert, at 7:30 p.m. Monday, March 8, in the Olin Arts Center, Room 105.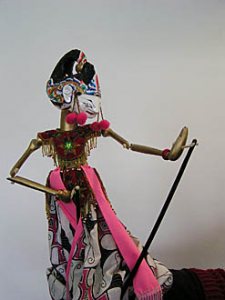 Admission to the concert is free but reservations are required. Any leftover tickets will be available at the door. For reservations or more information, please contact 207-786-6135 or this olinarts@bates.edu.
"Gamelan" refers to a traditional Indonesian percussion orchestra composed mainly of tuned gongs, metal-keyed instruments and drums, and which sometimes features voice and string instruments. The Bates Gamelan Orchestra, conducted by Gina Fatone, performs traditional and contemporary music of West Java and Central Java, as well as new music by North American composers.
A composer and master drummer who has been at Bates since Jan. 15 as a member of the Learning Associates Program, Roche is a member of the Sundanese people of western Java. He has performed as a freelance musician, written music for the influential workshop theater founded by the playwright Rendra and recently released his debut album as a vocalist. He and Sobani will form an artistic directing team for the puppetry performance.
Wayang golek is a Sundanese specialty in West Java, where performances typically begin in the evening and last all night. Similar to other types of puppet theater in Java, a single puppeteer manipulates the puppets, provides all narration and dialogue, and directs the accompaniment provided by the gamelan orchestra.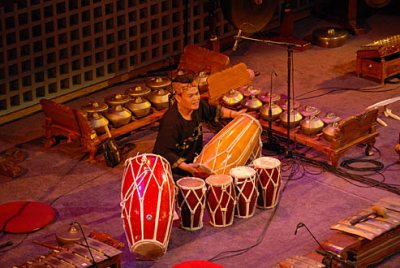 "While most people in our part of the world associate puppetry with children and children's programming, wayang golek is a highly sophisticated, nuanced art of the Sundanese," says Fatone. Walang golek requires considerable skill and some Javanese believe the puppeteers ("dalang") to possess supernatural powers. What makes the Sundanese style unique is the use of three-dimensional puppets.
Sobani, known onstage as Apep Hudaya, is renowned for his performances in Indonesia and abroad, and represents a younger generation of performers in West Java. With both familial training and formal education, he has performed throughout Europe and Asia. Sobani's residency at Bates is supported by a grant from the Freeman Foundation.
Performances of wayang golek in the United States by West Javanese artists are rare. Most wayang performances outside of Indonesia come from the Central Javanese culture and highlight shadow puppetry, as opposed to the West Javanese form. Wayang golek performances require intense collaboration among ensemble members and are one of the most common contexts for live gamelan music in West Java.
View Comments