Orchestra explores symphonic link between Haydn, Prokofiev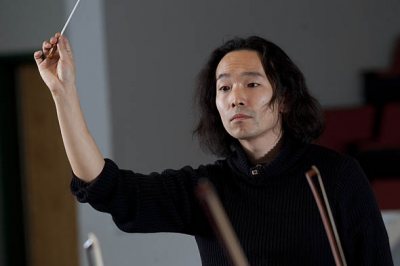 Conducted by Hiroya Miura, the Bates College Orchestra performs at 7:30 p.m. Saturday, March 20, in the Olin Arts Center Concert Hall, 75 Russell St. Admission is free, but tickets are required. For more information contact 207-786-6135 or this olinarts@bates.edu.
The orchestra will play Haydn's Symphony No. 104 in D major, the composer's last symphony, and Prokofiev's first, the Symphony No. 1 in D major, Op. 25.
"Haydn was the father of the symphonic genre," says Miura. Also known as the "London" symphony and written in 1795, No. 104's four movements "are filled with energy, emotion, wit and richly nuanced gesture," the conductor explains.
A composer of the modern school, Prokofiev debuted his first symphony more than a century later, but had an eye on the classical model established by Haydn. "He reinterpreted the classical symphony with more modern, personalized language, again with a wide array of emotions — from serious to humorous, from elegant to wild," Miura says.
This performance features both Bates students and musicians from the community, ranging from age 13 to older adults. "It brings great pleasure to all of us for the Bates College Orchestra to have a real presence in Lewiston-Auburn," says Miura. "I hope to reach out more to the community through music."
Leave a Reply
This is a forum for sharing your thoughts about the preceding post with the public. If you have a question for the author, please email the Bates Communications Office at communications@bates.edu.