Senior Exhibition 2010: Cory Sanderson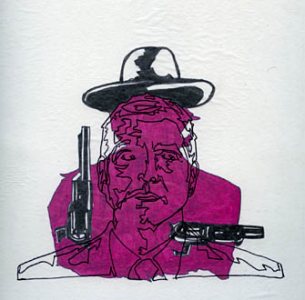 Proceeding from an interest in depictions of the human form, Sanderson combines drawing, collage and monoprinting to manipulate advertisements. "I chose images of men that I consider iconic" — gun-toting movie stars — "and poke fun at them by manipulating them to subvert that masculinity," he says. In a sense, his artwork is anti-advertising, layering images to provoke new perceptions about gender representation.
Leave a Reply
This is a forum for sharing your thoughts about the preceding post with the public. If you have a question for the author, please email the Bates Communications Office at communications@bates.edu.