Alum's tribute to pianist Glazer precedes Beethoven sonata series finale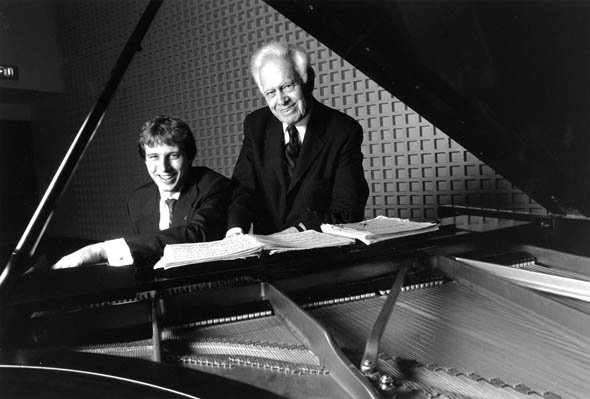 Admirers of 95-year-old pianist Frank Glazer will be treated to a double dose of the Bates College artist in residence on Friday, April 9.
At 6:15 p.m., former Glazer student Duncan Cumming explores Glazer's long career and musicianship in a talk titled Frank Glazer: Fountain of Youth.
Then, at 7:30, Glazer himself offers the final installment of his season-long review of the complete Beethoven piano sonatas.
Both events take place in the Olin Arts Center Concert Hall at Bates, 75 Russell St. Admission is free, but separate tickets are required for the talk and for the concert. For more information contact 207-786-6135 or this olinarts@bates.edu.
Glazer is a musician of international renown whose professional career began during the 1930s. He has dedicated most of his Bates performances this season to a chronological review of all 32 of Beethoven's piano sonatas. The April 9 program comprises the Ops. 109, 110 and 111 sonatas.
Cumming, a pianist and member of the music faculty at the University of Albany, graduated from Bates with highest honors in 1993. He studied with Glazer at Bates, and describes the older artist's influence on his music and teaching as "monumental. It's with me every day, every concert, every class and lesson I teach."
Organized in sections that he likens to a sonata's movements, Cumming's talk about Glazer will cover myriad aspects of the elder musician's life and work, and may include a sample Glazer piano lesson and readings from Glazer's letters.
Asked to summarize Glazer's contribution to Bates, Cummings noted that this "little corner of the world has had the chance to see one of the great pianists during what has now become, incredibly, his longest career stop — even though it began at age 65."
Glazer maintains an active performing career at Bates and away. Asked about characteristics of Beethoven's music that particularly strike him, Glazer points to the composer's imagination — one so fertile that he rarely needed to reuse an idea.
Beethoven had "the ability to extend a simple idea and have it continue and evolve," Glazer says. "He also had such a sense of proportion that, at the point when you are just about to become bored, he changes."
Glazer, of Topsham, has taught at Bates since 1980. His career includes numerous recordings, solo recitals and performances with orchestras and chamber ensembles, including the New England Piano Quartette, of which he was a founder. With his wife, the late Ruth Glazer, he founded the Saco River Music Festival, held for many years in Cornish, Maine.
Cumming's talk about Glazer will be based on his 2009 book, The Fountain of Youth: The Artistry of Frank Glazer (VDM Verlag). Cumming is a Maine native, born in Presque Isle and raised in Wiscasset.
In 1994, he received a full scholarship from the European Mozart Foundation to study and perform at the European Mozart Academy in Prague. He received a master's degree in 1996 from the New England Conservatory, and in 2003 earned a doctorate from Boston University.
Cumming has performed in some of the most prestigious concert halls in both the United States and Europe. In 2009, he received a grant to record music of Mozart and Weber on Weber's own 1812 Brodmann fortepiano.
View Comments