Bates Matters: What's Our Mission?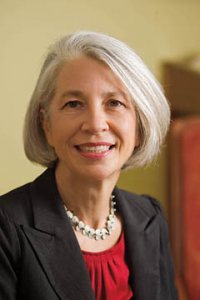 Bates is now engaged in its 10-year accreditation review — a perfect time to ask, "What's our mission?"
By President Elaine Tuttle Hansen
Accountability, assessment, metrics, scorecards, outcomes, and benchmarks —these are the oft-used terms you'll hear from magazine articles, op-ed pieces, talking heads, and conferences focused on higher ed.
The words speak to the sharply increasing pressure on colleges to respond to such internal and external forces as rising costs, regulatory bodies, and public opinion. And while this language of accountability seems to presume a rational cost-benefit discourse, it mostly carries political weight, reflecting and exacerbating the public's mistrust of higher education.
Meanwhile, a robust, long-standing, yet anything-but-newsworthy way to hold schools accountable remains solidly in place: the process of regional accreditation.
And if the regional accreditation process has recently become tied to the discourse of accountability, it nevertheless remains less rhetorically laden, offering an almost quaint notion of how to assure educational quality. Indeed, the regional accreditation process thrives in a climate of mutual trust and self-regulation.
Peer schools voluntarily commit themselves to the idea that self-assessment of our strengths and weaknesses can legitimately reassure internal and external stakeholders. Bates, which belongs to the self-governing New England Association of Schools and Colleges, is now deep into reaccreditation.
It's a two-part process. First, we prepare an elaborate self-study, using both quantitative and qualitative data to show our commitment to 11 NEASC standards for education and management. This can take months. Then, a team of peer evaluators, usually chaired by a college or university president, examines the self-study report and other documents.
The team visits the campus to interview faculty, staff, students, and trustees, and ultimately writes a detailed report of agreed-upon findings and recommendations, which is then submitted to NEASC for review and approval.
In my experience both writing and reading these reports, they tend to be candid, affirming, humbling, and both a reason for pride and a pointed charge for the future.
The very first NEASC standard is "Mission and Purposes," and it asks us to explain our distinctive aims and objectives. Touching areas like academics, finances, and integrity, every following standard connects back to the institution's self-proclaimed statement of purpose. In this way, the accreditation process recognizes that schools can meet these common standards in their own unique ways, and that educational quality cannot be measured in the abstract. To know if something is good, we need to ask "good for what?"
The NEASC preamble reflects this idea. It states that "the institution that meets the standards… has clearly defined purposes appropriate to an institution of higher learning; has assembled and organized those resources necessary to achieve its purposes; is achieving its purposes; has the ability to achieve its purposes."
I've emphasized "purposes" because the Bates community, independent of the NEASC process, is now working, also, to rearticulate our mission statement — the definitive expression of the purposes of Bates College. The decision to rewrite was collective and organic, flowing from and much informed by our recent planning process.
At 285 words, the current Bates mission statement (home.bates.edu/codex/mission) is a thoughtful, if long, overview of our college. Yet it can do more. Simple, elegant, and forceful, it should distill the essence of an institution or entity (consider the Preamble of the Constitution).
For Bates, it should answer a single big question: Given who we are and what we aspire to be in and for the future, how do we most effectively articulate Bates' enduring purposes?
To this end, I have charged a subcommittee of our NEASC self-study group to revise the Bates mission statement. This 14-member group includes students, faculty, and staff; nine are or will be Bates alums. The group's chair is Professor of Women and Gender Studies Rebecca Herzig, and she promises "deep and broad community engagement" during the process, everything from one-on-one discussions around campus to a theme night in New Commons like "Mission: Impossible."
Questions and comments about the mission statement can be addressed to this missioncommittee@bates.edu.
The goal, she says, is text that is "at once concrete and lofty, realistic and aspirational — a statement that communicates both our demonstrable achievements and distinctive vision."
As we set about to define our purposes through a new mission statement, I am reminded of the words of President George Colby Chase: "Valuable things require fine scales, and the most valuable things cannot be weighed at all." Fortunately, the NEASC accreditation process invites us to build, use, and trust such fine scales as we take measure of our college.
View Comments