Chairman of the Board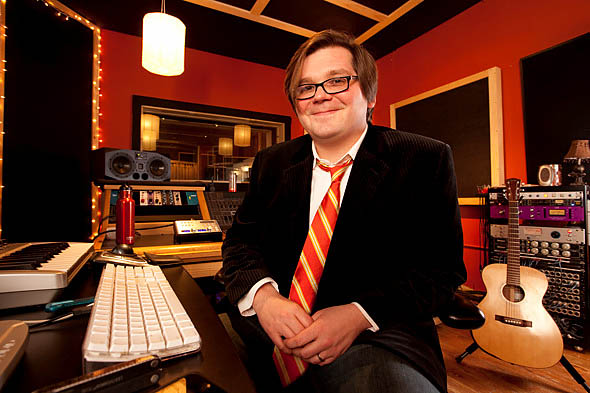 In harmony with machines and musicians, producer-engineer Jonathan Wyman '97 helps bring Maine sounds to the nation's ears
By Doug Hubley

"Somewhere in the last five years, we sacrificed good for correct," says Jonathan Wyman '97.
That's true in any number of areas, but this music producer and recording engineer is talking about people who think that note-perfect and perfect notes are the same thing.
Today's digital recording technology has made it easy to fix, after the fact, a wayward beat or a flat pitch. Wyman, though, has become one of Maine's most in-demand studio wizards largely because he values the sometimes-fallible human touch — and the musical excitement that often comes with it.
He points to Van Halen's "Everybody Wants Some," from the rock gods' 1980 Women and Children First. There's an electronic crackle caused by David Lee Roth's over-the-top singing.
"It's technically wrong. But it's wonderful, it's exciting, it's crazy," says Wyman. (It's also pretty subtle unless you have Wyman's ears.) "We're still talking about it 30 years later."
"Overthinking something can be detrimental."
His clients have included nationally recognized acts like Ray LaMontagne, Rustic Overtones, Arrested Development co-founder Speech, and Sparks the Rescue, as well as many others — the Jerks of Grass, 6Gig, Paranoid Social Club, and on and on — with robust Maine and regional followings.
Wyman is also in demand because he achieves industry standards of quality, musical and technical, at The Halo, his barn-cum-studio in rural Windham. That's important because nothing impresses decision-makers in the music business, including the music-buying public, like a record that sounds the way a record should.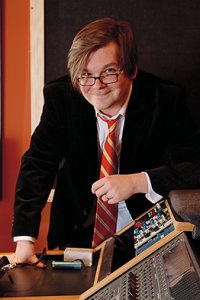 "You hear something Jonathan has produced, and it's, 'That's stuff I could hear on the radio,'" says Adam Ayan of Gateway Mastering and DVD in Portland, a facility where such musicians as Eric Clapton and Bruce Springsteen get their mastering done — the crucial process of preparing the final sound of a recording before it is mass-produced.
"What Jonathan Wyman does for the music scene here is to really help bands get their music to wider audiences," agrees Dave Gutter, a singer and guitarist for Rustic Overtones. (Their joint history goes back to when Wyman's own band was opening for the up-and-coming Rustic at Bates.)
Starting as a studio assistant in his native Massachusetts in the 1990s, Wyman today can tackle just about any aspect of making a recording. But the role that affords the most responsibility, scope, and arguably prestige is that of producer — the person who helps artists create a studio product that suits their needs, creatively and/or commercially.
"I have the overall game plan for the record," Wyman explains. He schedules sessions, organizes resources and workflow, and generally makes sure the artists get what they want for what they can pay.
On the creative side, Wyman — whose own tastes run to guitar rock but who has worked with rap, metal, and bluegrass artists, not to mention mixing full orchestra parts for Rustic's latest — also helps with arrangements, coaxes out the artist's best performances, and in a pinch even helps with songwriting and performing.
Part of Wyman's secret to success is that he's a triple threat in the studio: He's got the musicality, the technical savvy, and, perhaps most important, a great way with people. It's the human touch again.
"When I do something that sucks, he'll say, 'That was really good, but I know you can do a better take,'" says Toby McAllister, guitarist with pop-punksters Sparks the Rescue. (Their Wyman-produced songs have been picked up by MTV reality shows The Hills and Real World.) "He'll always put a positive spin on things. After three hours of recording the same song, a lot of people couldn't do that — but he really loves what he does. That makes the whole atmosphere a lot more easygoing and relaxed."
All that said, though, the producer's most important role may be the judicious application of objectivity. Part of Wyman's charge is to keep an eye on developments, good or bad, that an artist immersed in process and perfectionism may lose sight of. "A big part of my contribution to a record is very deliberately bringing it to the finish line," he says. "Vitality and spontaneity make a record sound good, and overthinking something can be detrimental."
Wyman was a rock musician by the time he got to Bates, where he majored in psychology. (Other Batesies from that fertile era with musical careers include Mark Erelli '96, Josh Fix '99, and Ryan Baker '00.) By the end of the century, he was working in New York as an engineer for producer David Katz.
"My strategy was to be one of those kids who works on the big desks" — recording consoles — "and try and make my way there," he explains. But he ended up having a lot more fun driving back to Maine on weekends to work on independent rock records. He returned to Maine for good in 2001.
Wyman is especially known for his prowess in mixing. Music is typically recorded onto multiple tracks that need to be, shall we say, orchestrated into a coherent whole by adjusting levels and applying effects. There's more to it than simply ensuring that the kazoo doesn't drown out the bagpipes, though. The best mixers tap technology and art to create a compelling soundscape.
Adam Ayan, in fact, struck up a professional relationship with Wyman because of the quality of a Wyman mix on a record by The Troubles. As a mastering engineer, Ayan's work is directly affected by the quality of a mix, and he hears world-class mixes on a daily basis. "When I heard Jonathan's mix for that local record, I was like, 'Wow, this is really great.'"
"I don't know where we went wrong that we have to be able to quantify where every note is."
Wyman uses art digital equipment at The Halo because digital saves all kinds of time, hassle, and money. But he also laments the creative impact digital technology has had. Recording on analog tape imposed restrictions on the process that, in the best producers and musicians, inspired creative responses.
"It made making records a little more urgent," he says. With today's gear, "you can always fix it later, you can always go back, and I don't really like that."
And digital makes it too easy to erase that human touch. "I can't be the artistic morality patrol," says Wyman, who feels that technology has engendered the expectation that every particle of a recording will be bright, shiny, in tune, and in time. "I don't know where we went wrong that we have to be able to quantify where every note is."
Instead, he'd rather gather musicians in the big room and record them live, damn the torpedoes. If the performance really rocks, it doesn't matter if — say — there's a crackle in the singer's mic. As Wyman says, "it's these little imperfections that can make something really endearing."
View Comments