Open Forum: Spring 2010
Not Nagin!
It was really quite heartwarming, especially during the holiday season, to see such an exemplary character as Ray Nagin on the cover of Bates Magazine ("Part of the Solution," Fall 2009). By trying to glamorize Nagin from a liberally safe distance, you've ignored what really goes on in New Orleans.
In a city where corruption has historically been the coin of the realm, Nagin's administration is demonstrating corruption of Brobdingnagian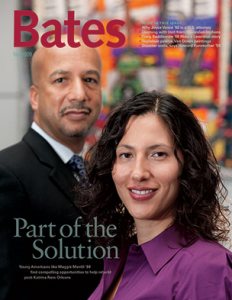 proportions, and the indictment of New Orleans technology chief Greg Meffert and his wife for bribery and fraud is just one example.
Writer Bill Walsh '86 tosses one softball question to Maggie Merrill '98 about the city's post-Katrina performance, which elicits nothing more than a sycophantic defense couched in bureaucratic rhetoric. When she says that "it's harder than you might think to navigate the bureaucracy" around the allocation of funds, she is, of course, talking about bureaucracies other than the corrupt ones created and maintained by the administration within which she works.
Eric Carboneau '80, Winter Garden, Fla.
One More on Lounsbury
The story in the Summer 2009 Bates Magazine on "The Good Doctor," Dave Lounsbury '72, was truly magnificent, the sort of professional article one would expect to see in Time or Newsweek.
The story was not only extremely well-written and illustrated but also addressed a topic of special and current interest to anyone concerned with the fates of our military men and women and the costs of war. It was great to see the various points of view on Dave's book and such a careful and skillful rendering of his thoughts, words, and personal experiences. Dave is a humble and gracious man who would never seek accolades, but it is clear from this article that he deserves them.
I am somewhat biased, as we are classmates. We each had our futures changed at Bates: mine by biology professor Hal Hackett, who inspired me to go into botany; and Dave's by Eli Minkoff, who inspired him to pursue a medical career. For me, Bates offered close interaction between faculty and students, a free-spirited nature, and a kinship inspired by its small size and closeness. My world expanded at Bates, and I never felt threatened there — truly an alma mater.
Dave is an outstanding alumnus who continues the long liberal tradition of professionalism that is Bates. Bates does, indeed, matter.
Steven R. Hill '72, Champaign, Ill.
The writer is a botanist with the Illinois Natural History Survey, considered the guardian and recorder of the state's biological resources. — Editor
Bank on It
I was thrilled to read the online story by Brittney French '11 about the project undertaken by Professor of Anthropology Elizabeth Eames and her students in the course "Production and Reproduction." I'm with an international consulting firm, and we have spent a significant amount of time working for an Islamic investment firm client who is investing in and establishing Islamic banking services throughout the Middle East and Asia. This is a topic that will only grow in importance and exposure, and I think it's fantastic that Professor Eames and Bates can offer students firsthand experiences such as this one.
Sam Hotchkiss '05, New York, N.Y.
Read story, "Students explore local need for Islamic banking practices." — Editor
Werner Deiman
The obituary for Professor Emeritus of English Werner Deiman (Summer 2009) and the Memorial Minute by Professor of English Carole Taylor did well in capturing the essence of this remarkable person and teacher. I write to add to what Professor Taylor referred to as the "testimony of his students."
It is a vast understatement to say there was no one quite like Werner Deiman. His English literature classes in the early 1970s were among the strongest influences to lead me to a lifelong love and exploration of literature. I am grateful that somehow this impressive scholar and unique persona found his way to Lewiston and to Bates. His lectures, thoughts, and appreciation of all of the arts, and his very own way of being in the world, opened my eyes as a young student to new ways of interpreting my own experience of things. I am grateful, too, to have known him as a mentor, advocate, and friend.
Rolvin Risska '73, San Francisco, Calif.
Read the Memorial Minute for Professor Deiman. — Editor
Quality Content
The Fall 2009 Bates Magazine just arrived, and I read it quickly as I usually do. I feel compelled to say that you, your colleagues, and Bates do a terrific job. My wife went to two different colleges in Michigan, and my offspring have attended two schools here in Ohio, so I get to read the alumni magazines from those schools. It is my belief that none can hold a candle to the high quality content of Bates Magazine. Keep up the good work.
Gordon D. Hall '53, North Olmsted, Ohio
FMI on Tagliabue and Van Doren
The Fall 2009 Bates Magazine story about the collaboration between John Tagliabue and Adam Van Doren ("Roman Influence") made me fall in love with Van Doren's paintings. The article mentioned two books: one on Van Doren and the other the joint project. I'd like some more information on where these books are available. Thanks for your continuing work to highlight the good things that come from Bates.
Mariah Pfeiffer '07, Pittsford, N.Y.
The book An Artist in Rome, featuring poems by the late Professor Emeritus of English John Tagliabue and paintings by Adam Van Doren, is available through the Kelly-Winterton Press, P.O. Box 252, New York, N.Y. 10276. Cost is $50 plus $3 shipping. Make checks payable to Jerry Kelly LLC. The monograph that focuses on Van Doren's work is Adam Van Doren (Hudson Hills Press, 2007), available through your favorite online or bricks-and-mortar bookseller. — Editor
In the Swing
Thank you for the "Ask Me Another" interview with Carmita McCoy and Marylyn Scott, the College's two swing deans (Fall 2009). During the Campus Climate Initiative several years ago, I was the student chair of the committee for admissions; ours was the group that proposed the swing-dean program. Thanks for celebrating the role of our efforts in your piece, through the observations of Marylyn and Carmita. And thanks for reporting on the impact of the program. I was pleased to hear Marylyn say that the experience of multicultural and first-generation Caucasian students is "vastly different" from what it was several years ago. May the growth continue.
Michael Wilson '07, Brooklyn, N.Y.
An example of the swing-dean program in action is in the recent PBS documentary, A Girl's Life, which tells how Sonia Luna '13 of New York City ended up at Bates. View story at
bit.ly/sonia-luna. — Editor
Title Search
The Summer issue gives news of history professor Joseph Hall's course on Maine's Wabanaki tribes ("Sacred Circle"). I have long been curious about the Native Americans in Maine, but have never had a good source of information. Where, for example, were the Native Americans around Bates?
Is there any chance you could persuade Professor Hall to write an article on the topic? The scholarly knowledge of a Bates professor should be eligible for inclusion in Bates Magazine, and such history is much more interesting than that Gaul was divided into three parts.
One thing that I've learned over a long lifetime is how much alike we all are. And when I get the idea that I'm the only one interested in something, I usually find out very quickly how wrong that idea is. And so, I'm pretty sure a lot of other deprived grads would be interested.
Mary F. Kingston '41, Needham, Mass.
To learn about Native Americans in Maine, Professor Hall suggests three titles: Women of the Dawn by Bunny McBride; The Penobscot Dance of Resistance by Pauleena MacDougall; and An Upriver Passamaquoddy by Allen S
ockabasin. — Editor
Major Opinion
The Fall 2009 Bates Magazine, with Class Notes stories about Army Lt. Col. Mark Leahey '86 and Marine Col. Stephanie Smith '87, was great to read. And, of course, the previous issue's article documenting the efforts of Col. Dave Lounsbury '72 was a top-notch production. That all these folks are in the military and that their work was highlighted is a great thing, in my opinion.
Jon Custis '91, San Clemente, Calif.
Marine Major Jon Custis is the executive officer of the 1st Light Armored Reconnaissance Battalion. The "Highlanders" were recently deployed in Iraq's northern Ninewa Province, where they worked to stop smuggling and the infiltration of foreign fighters into Mosul. — Editor
Bridging the Truth
This may be picky, but I'd like to correct a statement in the Spring 2009 article in Bates Magazine about the South Bridge over the Androscoggin River, now the Bernard Lown Peace Bridge ("Name that Bridge").
The original South Bridge may have been built in 1873, as you wrote, but that one was washed away by the spring floods of 1936. For a while, a temporary wooden footbridge connected New Auburn and Lewiston. Crossing that bridge was a dizzying experience because the swirling water seemed to be much too close. But that didn't keep me from my Saturday afternoon trips to the Priscilla Theater on Pine Street, where I could see a double feature for a dime while eating 5 cents worth of jelly beans from Woolworth's.
Mary Tibbetts Kelly '46, Fairfax, Va.
The bridge error was one of two in that story about Al Harvie '65 spearheading efforts to rename the South Bridge in honor of Dr. Bernard Lown, LL.D. '83. The story also switched the mayoralties of John Jenkins '74 and Larry Gilbert. The former is Auburn's mayor, the latter Lewiston's. — Editor
View Comments