Two Out of Three Ain't Bad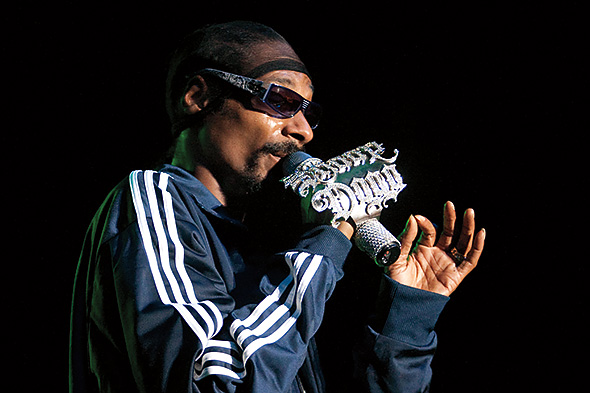 Booking a cool, affordable, and name-brand band takes luck
You've heard the saying: You can have your project done fast, good, cheap — pick any two. Similar constraints apply when booking rock bands at a college like Bates. You can have a cool band, a well-known band, and an affordable band, but probably not all three.
Which is why the Feb. 27 show by Snoop Dogg is a rare trifecta for the Chase Hall Committee, the student group that sponsors much of the social life at Bates, including signature concerts.
Snoop's affordable? Check. Bates landed the rapper for $60,000, about 20 percent less than his usual fee, thanks to good luck with his booking agents, says Keith Tannenbaum, Bates' coordinator of student activities.
Cool and well-known? Check and check. Snoop's a legend and still fresh, if only because the mere announcement of his show, held in venerable Gray Cage (named for Bates' last Baptist preacher-president in 1927), shattered student expectations. A student summed up the campus mood: "Wow. Cool. Why Bates?"
A dud of a show can affect Bates social life all year.
Booking bands at Bates is all about "managing expectations," Tannenbaum says. On the one hand, rabid music fans would love to blow the CHC budget (around $85,000) on one great show. On the other hand is CHC's mission: to spend carefully on a year's worth of parties, dances, and other events.
So a dud of a show can affect Bates social life all year, and this has been true for decades. In 1982, Bates Student Arts Editor Richard Regan '82 said this: "CHC cannot afford to risk the large sums of cash needed to attract major acts to Bates." Timing and luck have always been dealmakers. Regan noted how the Go-Go's fee was just $3,500 before Beauty and the Beat but $10,000 after.
Some examples of the cool/well-known/affordable rule in practice:
Not cool but well-known and affordable. In 2002, students howled when the Gin Blossoms, coming off a five-year hiatus and well past full bloom, were booked by CHC. "But they did a great show," says Tannenbaum. Lenny Kravitz was on the verge of a four-year streak as the Grammys' Best Male Rock Vocal Performer when his 1998 show was canceled due to inexplicably slow ticket sales.
In 1970, The Grass Roots ("Midnight Confessions") performed at Winter Carnival, but the show drew a teenybopper crowd that seemed to embarrass the Batesies. Peter Burch '73 wrote in the Student that CHC booked
The Grass Roots because Lewiston girls "need a night off from their Barbie dolls." Ouch.
Cool, not well-known, but affordable. In the mid-2000s, "we could've gotten John Mayer for $15,000, but the students were like, 'Who's he?'," says Tannenbaum. In 2001, few students showed up for Ben Harper's opener: Jack Johnson.
Cool, well-known, but unaffordable. In 1984, after CHC broke off contract talks with NRBQ because of rising costs (from $5,000 to $6,200), students bitterly complained that CHC's decision was fueling "social stagnation" at Bates.
Almost a trifecta. When the Dave Matthews Band played in 1995, the group was deemed to have a mere "cult following" by the Student. Joan Baez came in 1961 right before Joan Baez, Vol. 2, went gold. Bowdoin enjoyed similar fortune in 1968, landing Simon and Garfunkel right before The Graduate soundtrack zoomed to No. 1.
In fact, the Maine colleges have always eyed each other when booking bands. "No one wants to book a band that's appeared at the other school," Tannenbaum says. And, of course, the schools want to outdo each other. Landing Snoop Dogg "is a win," he says. "This is a win for years."
View Comments