Bates students selected to present research on Capitol Hill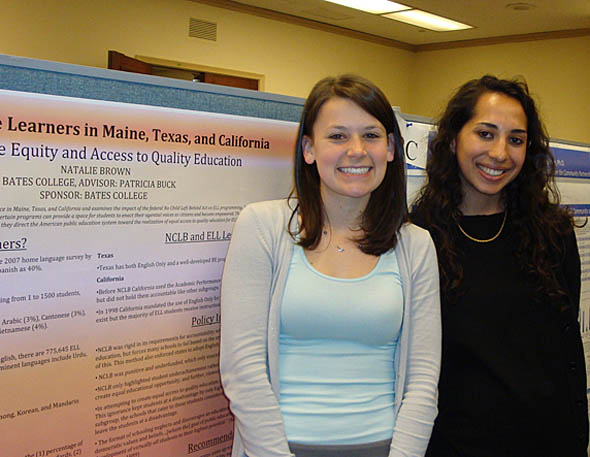 Two Bates College seniors were chosen by the Council on Undergraduate Research to present work in Washington, D.C., during the organization's annual Posters on the Hill event, in April.
Both interdisciplinary studies majors, the students are Mariam Alam of Greenwich, Conn., and Natalie Brown of Baltimore, Md. They were among 75 undergraduates from more than 50 colleges and universities selected to take part in the council's two-day gathering, which honors the participants' achievements and serves to remind Congress of the importance of funding for undergraduate research.
Alam, whose major focuses on public health, presented research conducted with Maine's Somali immigrant community that tested the effectiveness of pictograms for conveying medical information to non-English speakers.
Majoring in the politics of education, Brown presented work that examines the best methods for creating equal access to quality education, with an emphasis on fostering voice and political agency in students. (For abstracts of the students' work, do a browser search on their names here.)
More than 300 students submitted abstracts of their work for consideration by the CUR. "It's rare enough for a college to get one student selected in a year," said Pamela Baker, professor of biology and director of faculty research and scholarship at Bates. "To get two is extraordinary."
One other Maine institution, the University of New England, was represented at the gathering.
The Posters on the Hill program included a poster session and meetings with members of Congress or their staff. Both students praised the evening poster session, which gave them a chance to explain their research in depth.
"I got the chance to speak with someone from the U.S. Department of Agriculture, which is relevant to my research, as well as a cartographer who had great insight on the perception of imagery and a representative from the Association of American Colleges and Universities," Alam says.
She adds, "It was exciting to see what undergraduates at other schools have been researching and to talk to them about the research process."
Brown agrees. "I had people chatting with me for half an hour about my topic and how it related to what they were doing at their jobs."
The Bates students met with congressional staff from both Maine and their home states, and Brown also met face-to-face with Maine congressman Michael Michaud.
CUR's ultimate goal for the gathering is to show the flag for undergraduate research as Congress makes funding decisions.
"It's important that students meet with the senators and reps," Brown says, "because they'll get to see what the next generation is thinking about and looking at, and why."
The Council on Undergraduate Research, founded in 1978, is a national organization supporting and promoting high-quality research and scholarship collaborations between faculty and undergraduates. The council is a grassroots organization, funded by dues paid by colleges and comprehensive universities.
View Comments