---
Campus Construction Update: Week of May 3, 2010
These days, the renovation of Hedge and Roger Williams halls seems to be all about the concrete — taking it out and putting it in.
In Roger Bill, it's been coming out. Workers have pulled out chunks of the basement floor to make way for new plumbing and to cut openings for 19 new footers that will support the building's new interior steel framework.
But wait a minute — the footers will be concrete, too. Replace concrete with concrete?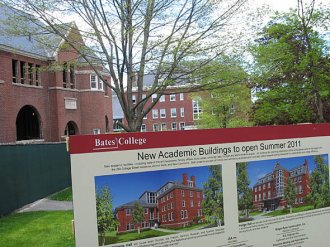 Say, what's the big idea? we asked project manager Paul Farnsworth. He explained that plain old basement-floor concrete isn't strong enough to hold up the steel (and thereby the building). So the footers will be reinforced with those ridged steel bars called rebar.
"The footers distribute the point load of the steel over a wider area of ground," Farnsworth said.
Over at Hedge, meanwhile, the concrete was flowing left and right. So-called shotcrete, or sprayed concrete, was applied to the outside of the eastern foundation wall. That created a nice smooth surface for dampproofing — that being the black stuff that you could see if you stood on a soapbox, peeked over the fence and looked at the foundation wall that faces Ladd Library.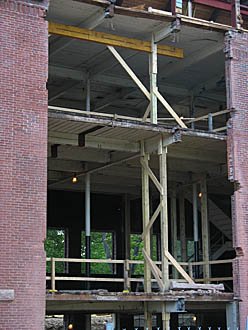 The same work will soon be done to Roger Bill, with a trench all around the foundation providing access.
Concrete was being pumped inside of Hedge this week, too. Some of it went into the same kind of footers, of which Hedge also gets 19. But some concrete went inside to form something that reminded Campus Construction Update of a Zen Buddhist koan. This "one-sided wall," Farnsworth explained, is a new layer added to the vertical plane of a wall.
"Essentially, we use the existing wall as part of the form" into which the concrete is poured, he said. "They really just made the wall thicker, and of course there are rebars and such in there that tie the old foundation to this new part."
Above ground level, Hedge looks like a mere husk of its former self, with nearly all its windows gone and a gaping hole on the north side. Its appearance will get worse, too, because most of the roof will soon come off. We asked Farnsworth what all this exposure to the elements means for the building's interior.
Interestingly, not that much. The biggest concern is protecting the historic brick as the roof is removed. "They'll cover it so we don't flush water down into the brick," he said. "The other stuff is no different from if you were building a new building and rain gets on it."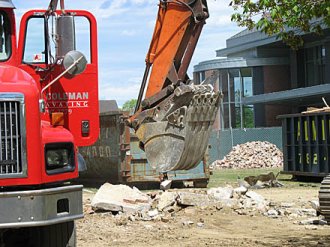 Meanwhile, although you won't see it for a few weeks, there has been progress in obtaining the steel that will ultimately hold up these buildings and their heavier new roofs. (The wall bricks have done that job for the past century.)
Before anyone actually lays a hand on metal, a steel fabricator needs to interpret the architects' design. "The fabricator has an engineer and they actually do the measurements," Farnsworth explained. "They're told what sizes they need by the architect, but for all the exact lengths, they have to survey and create lengths to meet field conditions."
The steel fabricator makes a set of drawings that are submitted for checking to the engineer of record, Becker Structural Engineers, Inc., and the architect, which in this case is JSA Inc., of Portsmouth, N.H. The drawings created by Northland Steel Corp. of North Reading, Mass., for Roger Bill, and United Steel Deck, Inc., of Summit, N.J., for Hedge are currently in final review.
"We're thinking that in June, the stuff will show up on site and they'll start putting it together."
Notes from Underground: Watch for some gas-line work in the next week or so between Hedge and Ladd Library. A line currently running in front of Hedge — that is, on the Alumni Walk side- — and feeding Dana Chemistry is in the way of the forthcoming Hedge addition and will be rerouted around the south side.
"So at some point there will be a one-day event where we dig a trench and Unitil, the gas people, puts down a new pipe," says Farnsworth.
Can we talk? Campus Construction Update welcomes your questions and comments, unless they're mean, about the Hedge-Roger Williams renovation project. Please e-mail staff writer Doug Hubley at this E-mail, stating "Construction Update" in the subject line.
---
Categories:
Faculty and staff
,
Hedge and Roger Williams renovations
,
Physical improvements
,
Video
.
Tags:
concrete
,
construction
,
Hedge Hall
,
renovations
,
Roger Bill
,
Roger Williams Hall
,
the Bill
.
---
Contact Us