Book drive for Kabul university enters last days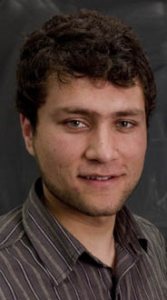 Bates, Colby and Bowdoin have focused their traditional rivalries on a good cause.
The three schools are vying to see which can gather the most donated textbooks for donation to the Polytechnic University of Kabul, in Afghanistan.
Kabul native Mustafa Basij-Rasikh '12 launched the project with the help of alums from the colleges.
The Polytechnic University of Kabul, the second largest university in the city, was established in 1963. Years of war have left the institution's facilities damaged and its libraries critically short of English literature and textbooks.
"The shortage is mostly due to much turbulent conflict and constant upheavals over the last three decades," noted Basij-Rasikh, "but there is also a shortage of government and international attention to the university. Most textbooks date to the 1970s and 1980s.
"It is also now important that the students become better English speakers."
Bates alum Chris Robinson '07 and other patrons have promised to pick up the shipping cost if the contest accumulates over 500 books.
Although science textbooks are preferred, any type of book will be appreciated.
Collection boxes are dispersed around campus. Stations are set up in the Chase Hall outside of the bookstore, in Pettengill, Ladd Library and New Commons in the Fireplace Lounge.
Ending Friday, May 28, the drive is sponsored by Students for Peace and Justice in Palestine, Bridges for Peace and the Helen and George Ladd Library. For more information contact this mbasijra@bates.edu.