Slide show features 2010 Commencement day photos
* View the slide show by clicking the thumbnails.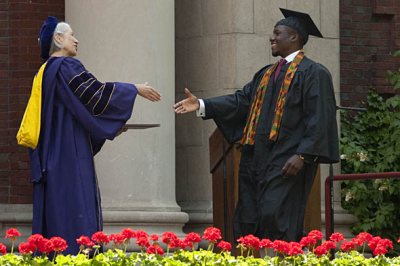 Always uplifting, the 2010 Commencement ceremony had a conversational, convivial spirit, as presenters on stage passed laughs around, friends and families jostled for camera angles and cheered on their graduates, and the breeze shook loose maple seeds that came glittering down like confetti in the sun. Photographs by Phyllis Graber Jensen.
Leave a Reply
This is a forum for sharing your thoughts about the preceding post with the public. If you have a question for the author, please email the Bates Communications Office at communications@bates.edu.