A department store among garage sales, Clean Sweep turns 10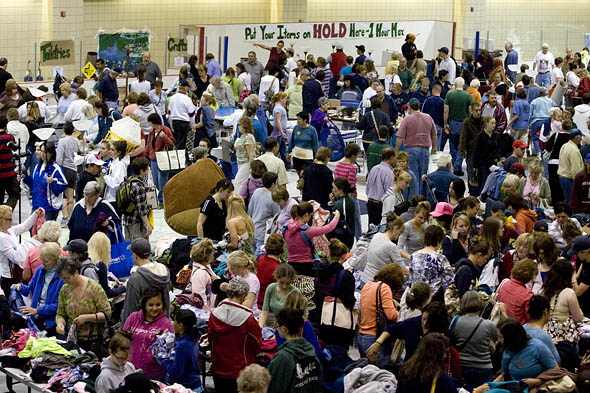 The 10th edition of Clean Sweep, the supersized "garage sale" at Bates College that benefits the environment, community organizations and scores of satisfied shoppers, starts at 8 a.m. Saturday, June 19, at Underhill Arena, 145 Russell St.
As students pack up to leave Bates at the end of the school year, they donate all manner of still-worthy possessions — electronics and toys, household goods and small furnishings, bikes and books, sporting gear and more — to Clean Sweep. This public sale keeps these perfectly usable items out of the landfill while the sale's proceeds go to local nonprofits.
To learn more, please call 207-786-6207.
Bates' event has become a tradition on campus and in the region. The collection boxes placed in dormitories around campus are always filled to overflowing. Different nonprofits participate every year, helping arrange the merchandise and staffing the sale. Bates is one of a number of colleges and universities nationwide that hold such sales.
In 2009, Clean Sweep raised a record $21,400 in proceeds that were divided among 14 community organizations. More than 100 volunteers from the nonprofits put in some 1,000 hours collecting, cleaning, organizing and pricing items for the sale.
There were more than 90 tables full of sale items in Underhill, plus rows of larger goods like lamps, furniture, appliances and electronics.
View Comments