Biologist Rebecca Sommer receives $419,000 NIH grant for study of arsenic effects
Rebecca Sommer, associate professor of biology at Bates College, has received $419,000 from the National Institutes of Health for research that could ultimately shed light on health impacts from the ingestion of tiny amounts of arsenic.
Funded for three years by the National Institute of Environmental Health Sciences, Sommer will search for the cellular and molecular mechanisms through which low doses of arsenic given to prenatal and juvenile mice tend to result in a syndrome of ailments by adulthood. These ailments include obesity, fatty liver disease and symptoms consistent with Type 2 (lifelong) diabetes.
The grant was made through the NIH Academic Research Enhancement Award program, which supports meritorious research, strengthens the research environment at recipient institutions and helps engage students with research.
"Rebecca's award is a powerful validation of her work and of the sciences at Bates. We're very proud," says the college's president, Elaine Tuttle Hansen.
"This research is important and innovative on its own terms. It also provides further opportunities for our students to experience the unique benefit of studying science at a liberal arts college, where they can work side by side with faculty in their labs, collaborating to explore real-life problems and develop the research skills needed to solve them."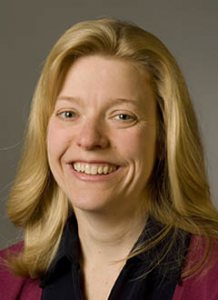 Sommer's findings will be of particular interest in Maine, a state in which arsenic occurs naturally in groundwater. The drinking water from about a third of privately owned wells in Maine is estimated to contain more than the current federal regulatory limit of 10 parts per billion.
"Our research is important because we're looking at very low doses of arsenic exposure, much lower than previous studies," says Sommer — but doses that exist in a significant number of Maine wells.
"One of our test groups is at 50 parts per billion, and that amount certainly occurs in some wells in Maine," she says. "We're trying to determine whether that low level of exposure could in fact increase your risk for diabetes and other problems later in life."
The dosage size is one distinctive aspect of Sommer's research. Another is the period of physical development she and her research team are focusing on. The team, which includes Bates students, will give arsenic to lab mice from conception through birth and up to the point when they are ready to live on their own without their mother.
The project also stands out because it addresses a gender difference in the response to arsenic. The symptoms Sommer is studying occur in adult male mice, but not in adult females exposed to the same amounts of the chemical during the same stages of development. Instead, the females fall prey to high levels of liver inflammation.
The dosage issue is key, Sommer explains, because arsenic's effects don't vary in a predictable way as the dose is changed. "We've learned in the past 20 years that you see very different effects with different doses — maybe opposite effects. Maybe a high dose will shut something down, but a low dose actually stimulates it."
In short, you can't extrapolate. "It's becoming really apparent that if we want to know whether arsenic is doing something, we have to look at the specific dose we're interested in and the specific tissue type."
No arsenic will be administered to the mice after the age of three weeks. Tracking them through adulthood, Sommer will use a variety of approaches — for instance, microscopic examinations of cell anatomy and assessments of gene expression — to seek a link between the arsenic and any symptoms that develop.
According to Sommer, the NIH has increased its focus on "treatable targets." She says, "If we can figure out how arsenic works, it might give us insight into some basic biology, some part of how our body's working.
"Then we could perhaps identify targets for therapy so we could actually treat not only the effects of arsenic, but similar effects from other causes. Alcoholism gives us fatty liver disease. High-fat diets give us fatty liver disease."
Sommer's $419,048 NIH grant will support, among other resources, students involved in Sommer's research, including summer stipends for full-time work.
The pilot research that prepared Sommer to apply for the NIH grant was funded, in turn, by a Bates grant initiative that is strengthening the college's already robust academic program. The Mellon Innovation Fund provided $19,250 to conduct research that generated supporting data for Sommer's AREA proposal to NIH.
The Mellon grant paid for a student researcher, two months' salary for a research technician and supplies. Endowed by a $450,000 award from the Andrew W. Mellon Foundation of New York, the Innovation Fund supports faculty projects designed to initiate fresh approaches, new directions and novel undertakings in teaching, research and scholarship at Bates.
This pilot project resulted in one student's receiving a prestigious opportunity to present research at a national conference. Anne Carlton, a recent Bates graduate from Andover, Mass., received a Pfizer Undergraduate Travel Award to present data at the National Meeting of the Society of Toxicology in Salt Lake City in March.
View Comments