Dance festival presents Varone company with stunning new work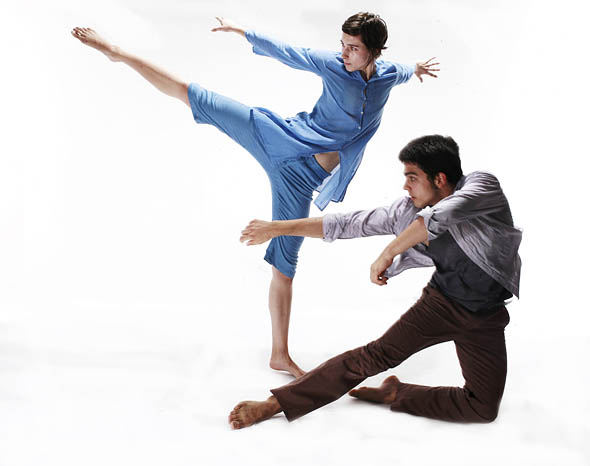 One of America's most gifted dancemakers, Doug Varone returns to the Bates Dance Festival for his sixth creative residency since 1992. Varone's exceptional company performs stunning new works including "Lux," "Castles" and excerpts from a work in progress, "Chapters from a Broken Novel."
Performances take place at 8 p.m. Thursday and Saturday, July 15 and 17, in Bates College's Schaeffer Theatre, 305 College St. For information about tickets, and for additional performance details, visit the festival website.
A public discussion with the artists follows the Thursday concert, and an "Inside Dance" talk by dance writer Debra Cash precedes the Saturday show at 7:30 in Schaeffer.
A Washington Post reviewer wrote that "Lux," set to music by Philip Glass, "is all about freedom. It is what dancing really feels like…loose and sweeping in a spirit of exultation. Varone puts the beating heart at the center of his work."
"Castles" is set to Sergei Prokofiev's Waltz Suite, Op. 110. The whirling score propels nine dancers across the stage with striking energy.
To complete the program, Varone shows a sneak preview of his latest full-length work, "Chapters From A Broken Novel." Set to an original score by award-winning composer David Van Tieghem, "Chapters" is composed of seemingly independent short segments that reveal intimate portraits reflecting the human experience. A co-production with Portland Ovations, the company will feature the piece in Ovations' 2010-11 season.
Founded in 1986, Varone's company commands attention for its expansive vision, versatility and technical prowess. On the concert stage, in opera, theater and on the screen, Varone's dances make essential connections and mine the complexity of the human spirit.
From the smallest gesture to full-throttle bursts of movement, Varone's work can literally take your breath away. The New York Observer wrote, "Varone dancers are kinetically thrilling. They go all the way, both when they're in vivid, rushing motion and when they're in deep stillness."
At home in New York City, Doug Varone and Dancers is the resident company at the Harkness Dance Center at the 92nd Street Y. On tour, the company has performed in more than 100 cities in 45 states across the U.S. and around the world. Stages include the Kennedy Center, Lincoln Center, the Brooklyn Academy of Music, San Francisco Performances, London's Queen Elizabeth Hall, Toronto's Harbourfront Centre, Moscow's Stanislavsky Theater, the Venice Biennale and the Jacob's Pillow and American dance festivals.
In opera and theater, the company regularly collaborates on the many Varone-directed or choreographed productions that have been produced around the country during the last decade.
Doug Varone and Dancers are among the most sought-after ambassadors and educators in the field. Annual summer intensive workshops at leading universities attract students and professionals from around the country. The company's multidisciplinary residency programs capture their concepts, imagery and techniques for people of all ages and backgrounds, reaching out in ways that directly relate to people's lives and interests.
Varone, his dancers and designers have been honored with 11 New York Dance and Performance Awards, better known as Bessies.
View Comments