Campus Construction Update, Sept. 3, 2010: 10 Frye St.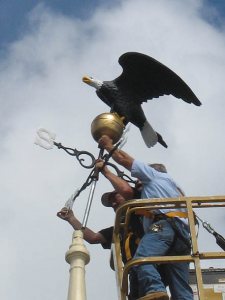 Editor's note: As the photo at right illustrates, the eagle landed on Sept. 10. Read more about it in the Sept. 17 edition of Campus Construction Update.
In an e-mail slugged "The eagle will land," Facility Services project manager John Rasmussen alerted Campus Construction Update to a new development at the 10 Frye St. student residence.
An eagle-shaped weathervane believed to be original to the 1873 carriage house at the site is scheduled to return to the roost the week of Sept. 6. (Watch this space for time and date.)
Posed with its wings spread as if about to take flight, the weathervane will be remounted on the cupola atop the wooden building. With an apartment newly installed on its second floor, the structure is adjacent to the brick main house at 10 Frye, which has six student suites.
Bates and general contractor Pizzagalli Construction Company of Portland renovated the whole complex this summer. The eagle is the crowning touch.
The bird, Rasmussen said, "has been painted to look like a bald eagle. It's life-sized": 3 feet, 6 inches high, with a not-fully-spread wingspan of 2 feet, 6 inches.
"It's made of sheet metal — tin most likely, as all the other exterior sheet metal was tin. The directional arms are cast iron, and the whole vane weighs about 40 pounds."
A couple of Bates carpenters in a cherry picker will return the eagle to its home about 35 feet off the ground. Its shaft will pass through the decorative spire, or finial, on the peak of the cupola.
A recent owner of 10 Frye, Joseph Cronin, removed the weathervane before he sold the house in 2005, fearing that it might be stolen or sold. Cronin stored it until he learned about the restoration and decided to donate the bird to the College.
"It was in terrific shape," Rasmussen said. "The only work required was the paint job and the replacement of the shaft on which it is mounted."
Rasmussen is sure that the bird was an original feature. "The finial of the cupola looks original," he explained, "and weathervanes, along with the iron cresting on the house, were very popular with Gothic Revival buildings."
Then as now, the eagle was a powerful cultural symbol. "The choice of an eagle, as opposed to roosters or other farm animals, may have been influenced by the upcoming American centennial" in 1876, Rasmussen said.
"And such ornamentation, along with the many other elaborate architectural details on the house, was meant to indicate the status of the occupants — common to all ostentatious architecture throughout history."
Wandering over yonder is easier now that the Hedge-Roger Williams project is fenced in.
A Bobcat calls the new FieldTurf playing surface at Garcelon Field "phenomenal."
View Comments