Campus Construction Update, Sept. 3, 2010: Hedge and Roger Williams halls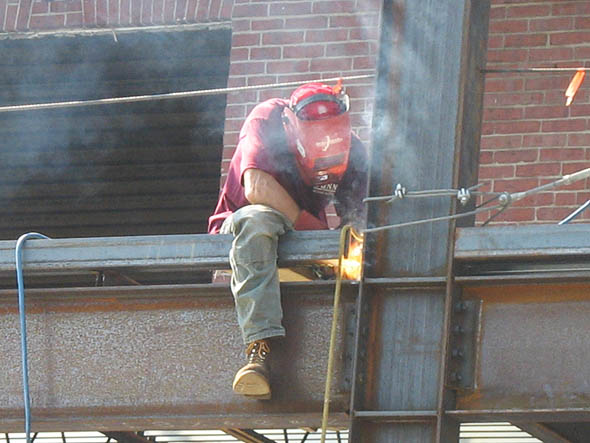 Paul Farnsworth, unlike Cole Porter, wants to be fenced in.
Or at least he wants for the renovation of Roger Williams and Hedge halls, which he manages for Bates, to stay within its established, fenced-in work zone.
But his goal, paradoxically, is the same as Cole's: unrestricted mobility. During the summer, utilities work needed to be done outside the designated Hedge-Roger Williams site, blocking cross-campus access in sometimes confounding ways. Paving projects unrelated to the Hedge-Williams work compounded the confusion.
Some paving this week was the last of the extrafensular activities. Now wandering over yonder is almost as easy as it ever was (sorry, we've got "Don't Fence Me In" stuck in our heads) and Farnsworth has gotten his wish. For general contractor Wright-Ryan Construction and its crews, there's no longer any "need to go outside the fence," he says.
Some of the paving was related to two different steam-line projects. One links Ladd Library with a steam vault — an underground distribution and access point — at Hedge. The other ties Roger Williams to the steam plant, way over through the wide open country behind Merrill Gym.
The Ladd steam lines are done, but the Roger Williams work will continue into the week of Sept. 6. When that trench has been backfilled, says Farnsworth, "we can get our real estate back" — meaning land, lots of land, where steel can be stockpiled.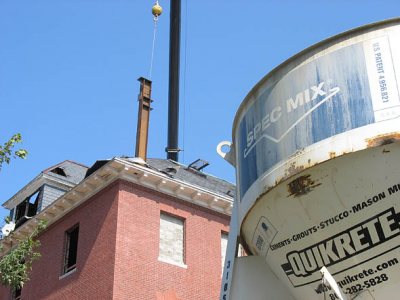 But steel is already going into the Bill. As of Sept. 2, Farnsworth noted, seven steel columns for the building's skeleton had been lowered in through holes in the roof. It'll take another couple of weeks for that skeleton to be finished.
What, you may ask, supported the Bill and Hedge without metal frameworks for 115 years? Bricks, baby: The weight of the structure was fully supported by those beautiful brick walls.
The walls will continue to play a structural role, but more support will be needed. The reborn buildings and their roofs will be much better insulated than before, meaning that escaping heat won't melt snow off the roofs, making the roofs much heavier, both from the snow and the structure needed to withstand it, than before.
Too, the building code has changed. Now renovations of this magnitude must result in a building that can withstand an earthquake. Mild quakes are relatively common in Maine (a quake around in Lewiston in 1857 was enough to scare residents and shift furniture around) and it's only prudent to build for stronger temblors.
In the meantime, the foundation for the Roger Williams addition needs to be created. You've seen it something like already at Hedge Hall (at least if you are tall enough to see over the fence or, like Campus Construction Update, carry a stepladder with you everywhere): a frost wall was poured, then a concrete slab upon which the addition will rest.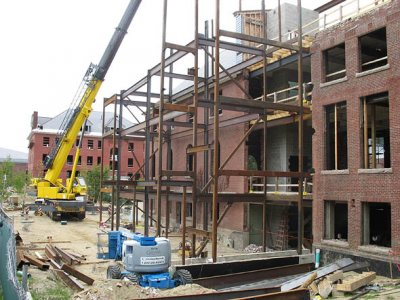 Things will be a bit different at the Bill, because there will be a basement under part of the addition. So the basement will be poured into a hole that's already been dug, and then more excavating will be done around that basement for the frost wall and slab that will support most of the addition.
All that will start next week.
Steel work continues at Hedge and should be done in a couple of weeks. "We're up to the roof joists," says Farnsworth.
Bobcats call the Garcelon Field playing surface  "phenomenal."
View Comments