---
Doyle '72 offers ESPN.com commentary on coaching and life lessons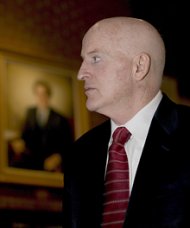 In an ESPN.com commentary, Dan Doyle '72, an authority on sports in America and internationally, encourages youth coaches to go beyond teaching just "textbook knowledge" of sports and become mentors with a "commitment to imparting valuable life lessons." Among several points in his commentary, Doyle says coaches should encourage their student-athletes to be complete school citizens. Like the character Finn Hudson and the cheerleaders on Glee, Doyle says, "athletes in school are highly visible, but they should not allow themselves to be seen as a clannish, elite group who are excused from special assemblies, car-wash fundraisers and other kinds of schoolwide activities. Rather, coaches should channel athletes' high visibility, their prominence, into pursuits like peer tutoring or helping set up for the science fair." A former Bates Trustee, Doyle is the founder and executive director of the Institute for International Sport and helped to establish the Bates Scholar-Athlete Society in 2005. View story from ESPN.com, Sept. 10, 2010.
---
Categories:
Alumni and friends
,
Athletics
,
Bates People in the News
,
Integrity
,
Leadership
,
Society and culture
,
Teaching and education
.
Tags:
Bates Scholar-Athlete Society
,
Dan Doyle
.
---
Contact Us