Homecoming spotlights the wide range of Bates pride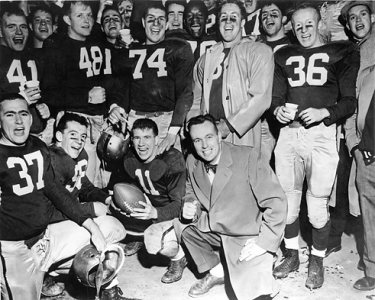 Whether it's harkening back to gridiron triumphs a half-century ago, celebrating Bates' embrace of the great outdoors or gathering to talk about strategies that gay students and alumni can use in their job search, Homecoming Weekend promises to evoke great memories and prompt relevant conversations about Bates alumni life today. Some Homecoming highlights:
Friday
At 7:30 pm, recent grad Chomba Kaluba '10 explains his work with a Zambian nonprofit organization that he founded and directs, in the Keck Classroom of Pettengill Hall.
At 8 p.m., the a cappella group Crosstones celebrate the release of their CD Lost and Found in the Little Room of Chase Hall.
Also at 8 p.m., in Chase Lounge, the Bates Outing Club holds its 90th anniversary celebration finale. The program promises a photographic review of the year and a discussion of "activities and antics" of the BOC today, produced and presented by current students.
Saturday
"Swede" Anderson is a College Key member, longtime volunteer fundraiser and active in the Bates National Day of Service. Of his service to Bates, he once said that "institutions that you've been involved with — good causes that are sincere and beneficial to humankind — can't exist without contributions from generous people."
View Comments