A fave of both rock and country fans, 'guit-steel' picker Brown comes to Bates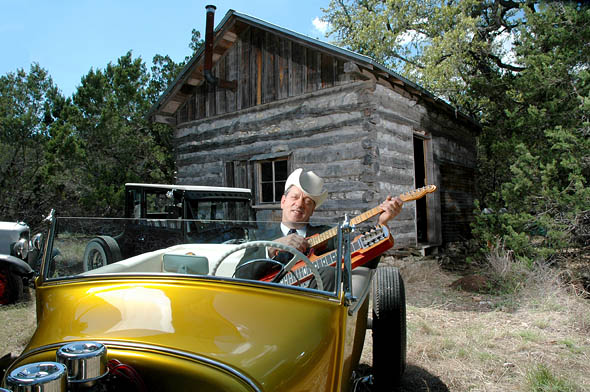 Known for his humor, energy and an instrumental creation called the "guit-steel" — combining the standard six-string guitar with the steel guitar — singer Junior Brown performs at Bates College at 7:30 p.m. Saturday, Dec. 11, in the Olin Arts Center Concert Hall, 75 Russell St.
Tickets are $15 and $8, available at www.batestickets.com. For more information contact 207-786-6135 or this olinarts@bates.edu.
Brown has mastered the best of two musical worlds, rock and traditional country. "Just about the time listeners label me as some old-time honky-tonk singer," he says, "I throw something new in there that surprises them. And then they'll appreciate the traditional styles of country music too.
"Do something to wow them without ruining the roots of country and they end up accepting the music that they would have been prejudiced against."
Brown literally dreamed up the "guit-steel" after finding himself torn between the standard 6-string and lap steel guitars during performances. "I was playing both the steel and guitar, switching back and forth a lot while I sang, and it was kind of awkward.
"But then I had this dream where they just kind of melted together. When I woke up, I thought 'You know, that thing would work!' They made double-neck guitars and double-neck steels, so why not one of each?"
Guitar maker Michael Stevens fabricated the guit-steel for Brown around 1985. For Brown the guit-steel is an amazing tool, a means to creating some of the hottest, most heartfelt playing heard in years. Life magazine honored him as the only contemporary musician included in their "All Time Country Band," and Guitar Player magazine's 1994 "Best of…" listings named him No. 1 as lap steel player, No. 2 as Country Artist and awarded him No. 3 for country album (Guit With It).
Following years as the one must-see act that Austin, Texas, had to offer to visiting musicians and label heads, Brown has since found an audience far beyond the Lone Star border. The first two of his dozen albums, 12 Shades of Brown and Guit With It (both on Curb, 1993) helped establish him from Texas roadhouses to the hippest clubs of New York City and Europe.
In the mid-1980s, Brown taught guitar under Leon McAulliffe, legendary steel man for Bob Wills' Texas Playboys, at Oklahoma's Hank Thompson School of Country Music, part of Rogers State College. It was there that he met "the lovely Miss Tanya Rae," the talented woman who would become his rhythm guitarist, backup vocalist and wife.
View Comments