---
Press Herald spotlights Maine Senate president Raye '83 and his 'passion for politics'
The Portland Press Herald makes clear that politics and public service are twin passions for Kevin Raye '83, Maine's new Senate president. Reporter Rebekah Metzler describes an Election Day moment years ago in rural Washington County, as Raye sat with his grandmother, whose GOP job it was to checked off names of Republican voters. The local Republican Party chair would occasionally ask how the turnout was going, then return a few minutes later with Republican party members who hadn't yet voted. Raye recalls the classic political scene as "so neat."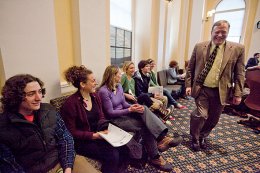 Raye has long been dedicated to Maine politics, serving 18 years on the staff of U.S. Sen. Olympia Snowe, losing a run for Congress in 2002 and winning a state Senate seat in 2004. "I've always though public service was a very honorable thing, a good way to serve people and make a mark in life," he says. "From the time I was a little kid I was drawn to it — I loved politics, elections and government from the time I was old enough to read." View story from The Portland Press Herald, Nov. 28, 2010.
---
Categories:
Alumni and friends
,
Bates People in the News
,
Civic engagement
,
Government and non-profit
,
Maine and New England
,
News and politics
.
---
Contact Us