Bates presents actress, activist and storyteller Vinie Burrows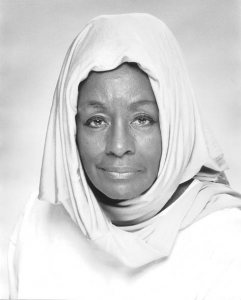 Called "an actress of superb virtuosity" by The Associated Press, performer and social justice activist Vinie Burrows offers two performances at Bates College this month.
Burrows, visiting Bates in conjunction with the college's annual Martin Luther King Jr. Day observances, offers a Noonday Concert Series performance at 12:30 p.m. Tuesday, Jan. 18, in the Olin Arts Center Concert Hall, 75 Russell St. The event is open to the public at no charge. For more information contact 207-786-6135 or olinarts@bates.edu.
Burrows then presents her acclaimed solo show Walk Together Children, a chronicle of the African American experience, at 7 p.m. Thursday, Jan. 20, in Schaeffer Theatre, 305 College St. This event is also open to the public at no cost, but tickets are required. A question-and-answer session follows. For tickets and more information, please call 207-786-6161 or visit www.batestickets.com.
Hailed as a classic in black theater, Walk Together Children uses the poetry, prose and songs of black writers to tell the epic story of survival after the auction block and of present-day struggles and triumphs of African Americans.
Burrows began her acting career as a child in a Broadway production of The Wisteria Trees featuring Helen Hayes. Since then, she has been featured in more than 6,000 performances on and off-Broadway, on television and in film, as well as on the stages of theater organizations, universities and other organizations around the world.
Burrows has performed with Mary Martin, Claude Rains, Ossie Davis, James Earl Jones, Louis Gossett and Earle Hyman. She has appeared on As the World Turns, NBC's Today, ABC's Good Morning America, CBS Presents and Hallmark Hall of Fame.
She also hosted More Than Half the World, a weekly radio show in New York City, for three years. Her guests included grassroots housing activists, politicians, actors, writers, victims of domestic abuse, diplomats and street vendors as well as visitors from Scandinavia, South America and the Caribbean.
Her solo productions include a repertoire of eight one-woman shows, including Walk Together Children, Rose McClendon: Harlem's Gift to Broadway, A Child is Born, Daughters of the Sun, Song of Lowino and Sister! Sister!
Burrows has received a variety of honors and awards throughout her career including the Eugene McDermott Award in the Arts (Massachusetts Institute of Technology, 2002), a 1996 Emmy nomination for her narration of The Amistad Revolt and the 1986 Paul Robeson Award from the Actors' Equity Association.
She completed a bachelor's degree in pre-law at New York University and received her master's in performance studies in 2002. She has served as an adjunct professor at St. Peter's College and Sarah Lawrence College, a lecturer at The New School for Social Research and as theater director at Franklin & Marshall College.
Burrows is the permanent representative for the Women's International Democratic Federation, a non-governmental organization in consultative status with the Economic and Social Council of the United Nations. She is also chair emeritus of the NGO Committee on Southern Africa.
View Comments