Pianist Glazer offers three concerts spotlighting Schubert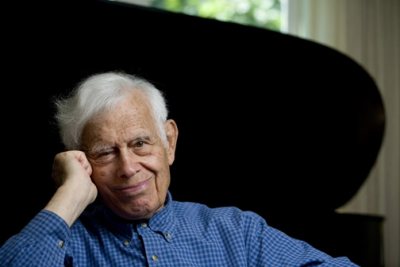 Aiming to shine a light on one of the most important composers of the Classical era, renowned pianist Frank Glazer performs three "Sundays With Schubert" programs at Bates College in January and February.
All at 3 p.m., the performances take place on Jan. 23, 30 and Feb. 6 in the Olin Arts Center Concert Hall, 75 Russell St. Admission is free, but tickets are required. For more information, please contact 207-786-6135 or olinarts@bates.edu.
An artist in residence at Bates since 1980, Glazer, of Topsham, is arguably Maine's best-known pianist. Turning 96 in February, he has enjoyed a long career marked by numerous recordings, his own television program in the 1950s and countless solo recitals and performances around the world with orchestras and chamber ensembles.
Schubert, a Viennese composer who lived a short but astonishingly prolific life in the early 19th century, is known for melodies that attain both formal and lyrical elegance. While he may be thought of more often for his contribution to vocal music, specifically the song and song-cycle forms, Schubert's piano writing offers a brilliant distillation of his artistry.
The Jan. 23 program concentrates on early sonatas: the A minor, Op. 42, from 1825; the D major, Op. 53 ("Gasteiner"); and the G Major, Op. 78, which Schubert specialist Imogen Cooper called "one of the rare completely serene sonatas that he wrote."
The Jan. 30 program is made up of shorter pieces that are among the more frequently heard works by this composer: two sets of Impromptus, the Op. 90 set and the posthumously published Op. 142; and the "Moments Musicaux," Op. 94, a collection of six pieces, romantic in style, that are considered companion pieces to the Impromptus.
Finally, the Feb. 6 program comprises Schubert's last three sonatas, written during his final months of life in 1828, but not published until 10 years later. Though paying, in some ways, homage to his idol Beethoven, the Ops. 958 (C minor), 959 (A major) and 960 (B-flat major) are better viewed as a pinnacle of his mature work, rich in both invention and emotional substance.
View Comments