---
Postcard: In the lab with snail brains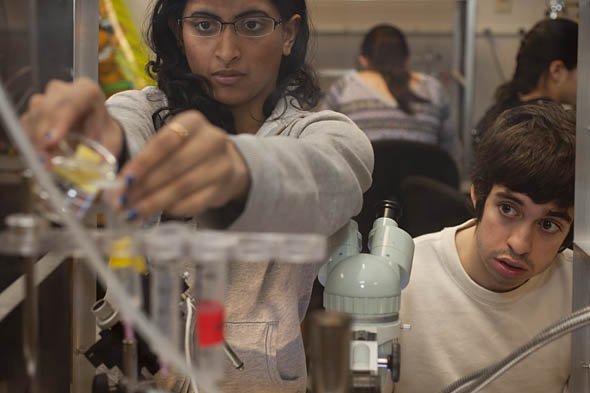 Who she is: Sangita Murali '12 of South Dartmouth, Mass.
Her major: Neuroscience
What she's taking this semester: Neurobiology, psychopharmacology, Physics 108 and "Frost, Stevens, and Williams."
Why she's taking this course, BI/NS 308: "For my major and to gain a better understanding of the cellular and molecular mechanisms underlying signaling in the nervous system."
What she likes about this course, taught by Associate Professor of Biology Nancy Kleckner: "It's really amazing that we get the opportunity to study what neurotransmitter receptors are expressed in oocytes (a female germ cell involved in reproduction) and manipulate action potentials in the Helisoma Trivolis (snail) nervous system at the undergraduate level! This is probably one of my favorite courses taken at Bates."
What she was thinking: "Whatever you do, don't contaminate the saline with acetylcholine!"
---
Categories:
Postcards
,
Research excellence
.
---
Contact Us