Corrie leads choir in Haydn's 'Lord Nelson Mass'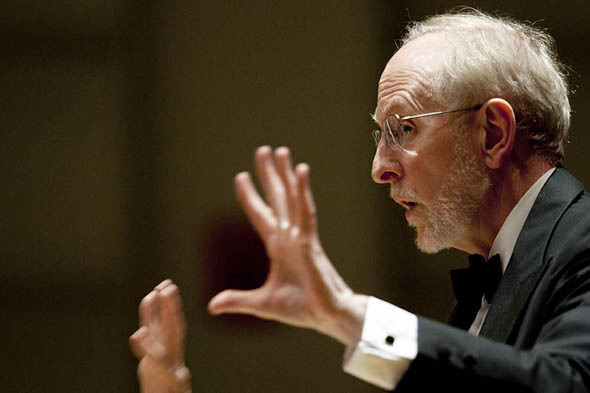 Directed by John Corrie, the Bates College Choir performs two works by Franz Josef Haydn at 8 p.m. Saturday, April 2, in the Olin Arts Center Concert Hall, 75 Russell St. (Editor's note: The scheduled April 1 performance has been canceled because of severe weather.)
The concert is free and open to the public, but tickets are required. To reserve seats or for more information, please contact 207-786-6135 or olinarts@bates.edu.
Accompanied by an orchestra of brass, woodwinds, percussion and strings, the choir will sing Haydn's Te Deum, a short work for the full choir; and Missa in Angustiis, better known as the "Lord Nelson Mass," which features four student soloists: sopranos Abigael Merson, a junior from Falmouth, and Sarah Dik, a sophomore from Boxford, Mass.; tenor Kim Liaw, a junior from Ontario, Calif.; and bass Andrew Bernard, a senior from Merchantville, N.J.
One of six masses that Haydn wrote toward the end of his life, and one of 14 in all, the 1798 Missa in Angustiis is considered one of his greatest works. "If the students should learn one Haydn mass as part of their choral education," says Corrie, "then it should be this one."
Missa in Angustiis is Latin for "Mass for Troubled Times." Haydn, an Austrian, completed the piece as the armies of Napoleon made his nation extremely vulnerable — yet a mere six weeks before the work's debut in September 1798, the British under Admiral Horatio Nelson defeated the French emperor in the Battle of the Nile, leading to the nickname of the mass
Leave a Reply
This is a forum for sharing your thoughts about the preceding post with the public. If you have a question for the author, please email the Bates Communications Office at communications@bates.edu.