Celebrating spring and new major, Modern Dance Company offers four performances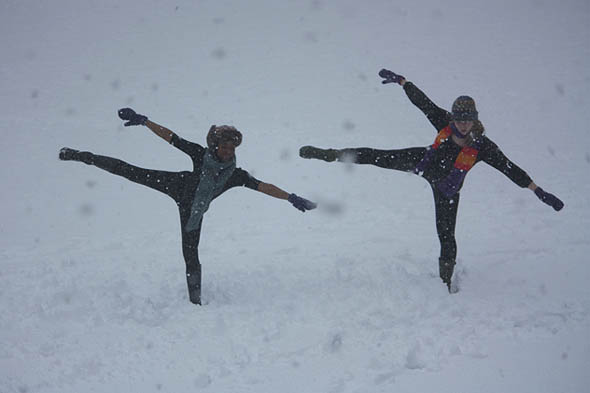 Featuring work by student and professional choreographers, the Bates College Modern Company welcomes spring and Bates' new major in dance with performances at 7:30 p.m. Friday and Monday, April 1; 5 p.m. Saturday, April 2; and 2 p.m. Sunday, April 3, in Schaeffer Theatre, 305 College St.
Under the title In Tension, the dance company's offering comprises two different programs, each of which will be performed twice in alternation. Admission is $6 for general admission and $3 for senior citizens and non-Bates students. For more information or to purchase tickets, call 207-786-6161 or visit www.batestickets.com.
"This is the first department-produced dance show since the faculty passed the new dance major," says Rachel Boggia, acting director of dance at Bates. The major was approved by a unanimous full-faculty vote on March 7, giving Bates its first new major program since the late 1990s, and giving Maine its first dance-only academic major.
"The excitement and commitment of the students is palpable in the work being shown."
The performances showcase student choreography from 200- and 300-level courses: Dance Composition, Advanced Composition Seminar, the Studio Ensemble and Jazz Dance courses, and dance utilizing video from the interdisciplinary course Atelier.
In developing their pieces, each student choreographer worked closely with a student designer from Michael Reidy's technical course Lighting Design.
The performances also feature choreography by Rachel Boggia, acting director of dance at Bates; the Maine jazz dance teacher Debi Irons; and guest choreographer Lynda Plavin Fitzgerald.
All four performances feature Fitzgerald's piece, and choreography and dancers from the Dance Composition course. The April 1 and 3 program includes two whimsical solos by Advanced Composition student Lindsay Reuter, pieces warmly received at the recent American College Dance Festival. Reuter is a senior from Shrewsbury, N.J.
On the April 2 and 4 program are a commentary in dance on social interactions by Advanced Composition student Kira Gavin, a junior from Lewiston; and Boggia's works for the Dance Ensemble course, choreography based on quantum physics and collaboratively created with students.
The name In-tension was chosen because of its physical resonance and reference to the intentionality of choreographic choice. "The performances are humorous, thought-provoking and entertaining," says Boggia. "Detailed, exciting and thoughtful, each piece represents the hard work of students learning their craft."
Fitzgerald, coordinator of the highly respected dance program at Anne Arundel Community College, is the daughter of Marcy Plavin, who established the current Bates dance program in the 1960s, and the late Leonard Plavin, a photographer who amassed a tremendous archive of Modern Dance Company images.
Fitzgerald will return to Bates to perform at the 35th annual Bates Dance Alumni Reunion Concert on Saturday, April 30. The reunion is dedicated to the life and works of Marcy and Leonard Plavin
View Comments