Patriotic million-hoop quest by Dave Cummings '89 gains national media attention
Last October, Dave Cummings '89 landed on the front page of USA Today as a vivid example of how, as the nation begins its 10th year of a distant war in Afghanistan, Americans are trying to find ways to personal and meaningful ways to express their patriotism.
That was seven months ago. Or, as Cummings might say, 319,000 free throws ago.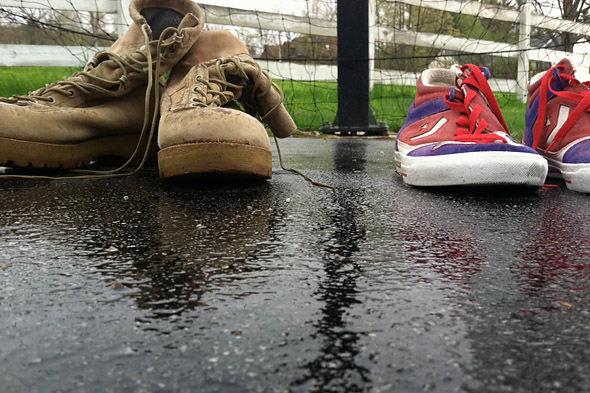 Cummings, of Epsom, N.H., is on a quest to make one million basketball free throws, his way of expressing support for U.S. military personnel. Specifically, he's raising awareness and money for the Intrepid Fallen Heroes Fund for injured veterans.
As of May 9, Cummings and his Hoops for Heroes project is at 779,507. But who's counting? Well, everyone's counting.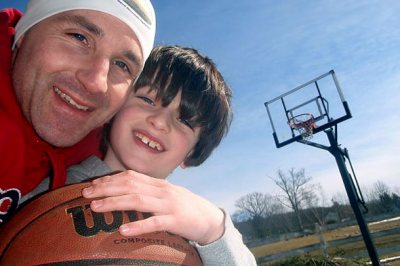 Cummings (whose father is 1,000-point Bates scorer Seth Cummings '65 and mother is Linda Cummings Messer '65) has made free throws in his driveway in all kinds of weather and in dozens of gyms on the U.S. mainland and on Nantucket.
He's been interviewed by print, TV and radio news outlets, tossed free throws on the set of the Mike Huckabee TV show and on the TD Garden's famed parquet floor during a timeout of the Celtics' New Year's Eve game, and got jockeys' help while tossing free throws at Saratoga Race Course.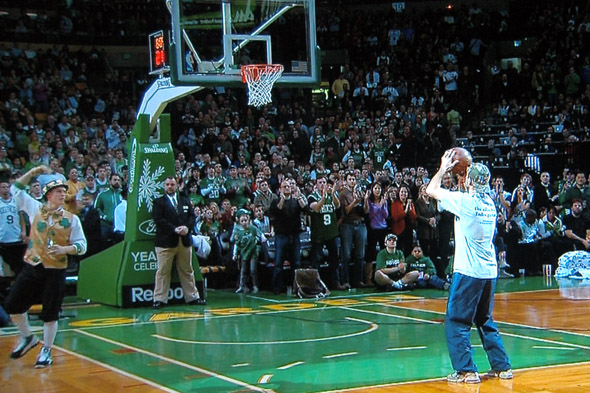 Cummings has made an average of 1,370 free throws per day since launching the Hoops For Heroes initiative on Veterans Day 2009. His plan is to sink the millionth on Veterans Day at the Basketball Hall of Fame in Springfield, Mass.
In March, he made his 700,000th as a guest member of the Washington Generals, the foils of the Harlem Globetrotters. After missing the first of two foul shots, "Big Easy" Lofton handed Cummings the ball, saying, "Don't be nervous. Everybody's watching."
Lofton then deployed an ageless Globetrotter gag, giving Cummings a wedgie. As Cummings recalled on his blog, "I readjusted the wedgie, dribbled twice, heard the announcer say, 'For 700,000 made…' and then floated one in. And that was it. To the bench I went."
Explaining to USA Today how he got started, Cummings says that a line from President Obama's inauguration speech hit him hard: "As much as government can do and must do, it is ultimately the faith and determination of the American people upon which this nation relies."
Three nights later, Cummings said this his video camera, "Tonight, I'm gonna start making some foul shots. I hope I can make a million of them and raise some money for the people overseas fighting for us. … I'm sorry I haven't been able to do more in my life, but I think it's time to do something. So I'm going to start."
Stories:
Leave a Reply
This is a forum for sharing your thoughts about the preceding post with the public. If you have a question for the author, please email the Bates Communications Office at communications@bates.edu.