Waterbury Observer reviews Muldoon '81 hockey novel inspired by hapless Hartford Whalers
The Waterbury (Conn.) Observer looks at a new novel by Bob Muldoon '81, who tells a tale about his beloved Hartford Whalers, the hapless NHL hockey team that in real life fled Connecticut for North Carolina in 1997, where the team plays today as the Hurricanes.
In Muldoon's novel, Brass Bonanza Plays Again (the title refers to the official Whaler song), the team returns to Hartford and gets a shot at the Stanley Cup.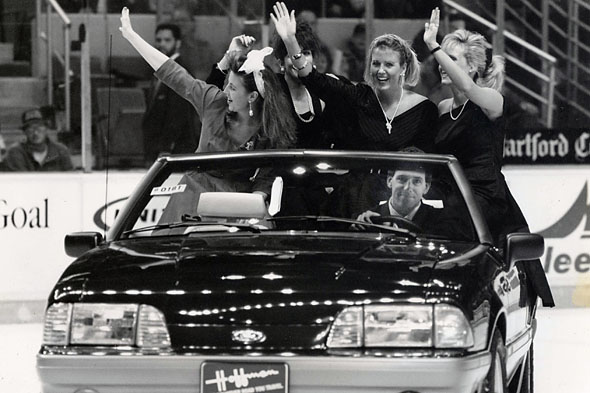 The novel's hero is the diminutive player Tiger Burns, whom Muldoon describes as "standing 5-foot-3, with one-eye, cauliflower ears, and a full-rigged ship tattoo on his chest." He's a good fit with the Whalers. "In a league where players date supermodels, ice princesses and Miss Americas, he is a misfit. But in a league of Los Angeles, New York and Boston, so is Hartford."
Muldoon's first-hand experiences with the team inspire the book that he calls "Rocky on skates meets Field of Dreams." Moonlighting from his Travelers insurance job, he  worked part-time in PR for the team starting in 1984. First he was the guy who opened the penalty box door. He then moved up to driving new cars onto the ice between periods, and by the end was writing features for the team's magazine.
As the Observer's John Murray writes, "The Whalers were the only professional sports team in Connecticut, and…[their departure] was like getting slapped across the face with a 20-pound sockeye salmon –- it left many people in Connecticut stunned, and feeling a bit slimy about themselves. Aren't we good enough, we wondered?" View story in The Waterbury Observer, April 8, 2011
Leave a Reply
This is a forum for sharing your thoughts about the preceding post with the public. If you have a question for the author, please email the Bates Communications Office at communications@bates.edu.