Bates annual giving posts robust gains in 2011
Bates annual giving posted robust gains in the 2011 fiscal year, according to a year-end summary prepared by the staff of the college's Bates Fund.
Through June 30, donors to the Bates Fund contributed a record $5,503,676, exceeding the fund's $5.5 million goal. The year-end total represents a 16.5 percent increase over 2010 and 28-percent increase since 2009.
All gifts to Bates in fiscal 2011, including endowment and capital giving, totaled $12,703,994, up 20.5 percent over 2010 and 43 percent since 2009.
Other highlights:
Alumni participation reached its 45-percent goal (45.2 percent), up from 41 percent two years ago, reflecting an increase of some 1,000 new alumni donors.
Participation from Bates parents, defined as all current parents and alumni parents who have given within the last three years, reached a record 39.1 percent.
On a national level, Bates' three-year gain in dollars since 2008 ranks second among a peer group of 17 national liberal arts colleges.
The eldest Bates Fund donor in 2011 was Al Webber '28, age 103.
The youngest donors were in the graduating Class of 2011, which directed its traditional Senior Gift to the Bates Fund. Seventy-six percent of the class gave to the Senior Gift, a 17-percent increase since 2009.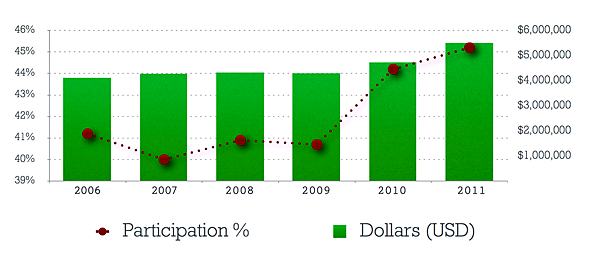 "Giving to Bates involves and touches more people every year," says annual giving director Christina Traister '94. "A record 9,814 alumni, parents and friends made the Bates Fund part of their giving tradition this year. And more volunteers than ever are contributing to the grassroots work to ensure the fund's success."
Adds Traister, "It's a nice position — to be able to thank more people!"
Since 2008, the number of Bates annual giving volunteers has more than doubled, Traister says. Volunteer alumni and parent leaders organized approximately 100 meetings and teleconferences relating to their work on the Bates Fund in 2011.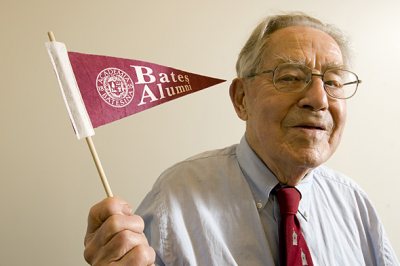 Representing gifts from alumni, parents and friends, the Bates Fund provides about 5 percent of the college's annual operating budget. Revenue from student fees and funds drawn from the endowment comprises the balance.
The fund's success has been part of Bates' strategic response to the global economic crisis that began in 2008, says Kelly Kerner, vice president for college advancement.
"Like all colleges, our endowment took a hit when the markets tanked in 2008 and 2009," he says. "Our investments have recovered, but our conservative spending policy means that the amount Bates annually draws from the endowment has seen a seven-figure reduction in recent years."
"Key to Bates' ability to do more than just weather the recession."
The Bates Fund's $1.2-million growth since 2009, Kerner says, along with a campus cost-savings program to identify $600,000 in budget savings, "have been key to Bates' ability to do more than just weather the recession."
Since 2009, expanded academic and student programs include a major renovation to Garcelon Field; a new academic major in dance debuting for 2011; and the renovation and expansion of two historic buildings, Hedge Hall and Rogers Williams Hall, as prime academic centers.
The Bates Fund's success comes as the college embarks on a national search for the successor to Elaine Tuttle Hansen, the college's seventh president, who departed June 30 to lead the Center for Talented Youth at The Johns Hopkins University.
By exceeding Bates Fund goals, says interim president Nancy Cable, "our alumni, parents and friends have sent a proud and timely statement about the strength and resolve of our college."
View Comments