Getting ready: Sarah Potter '77 and the College Store
In the College Store, quarter-zip sweatshirts are all the rage, and demand for Bates-branded women's apparel, as opposed to the traditional unisex garb, is growing. It's these lines that keep the store in the black, while the store's most essential offering — textbooks — is at best a break-even operation.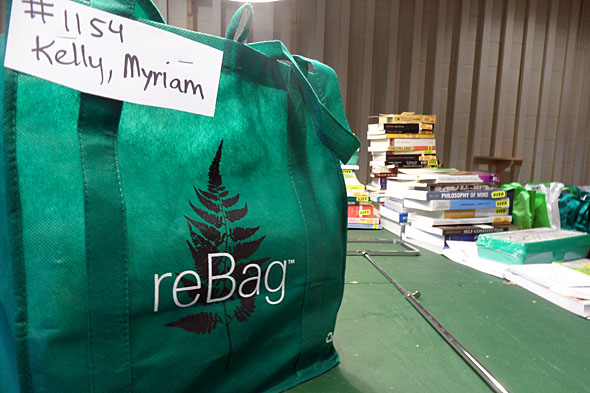 The reauthorized federal Higher Education Opportunity Act that took effect in July 2010 mandates that, as courses are opened for student registration, colleges must post the textbooks required for each course, with such information as price and edition as the information becomes available. It's a consumer-friendly measure that gives students time to find the best deals and affordable alternatives.
So, because Bates upperclassmen registered for fall courses in March, they had most of the spring and all summer to shop for texts, no small matter considering how textbook prices have soared. According to a study released in August by the U.S. Public Interest Research Group, text prices have risen 22 percent in the past four years.
Students who purchased their books over the summer through online through the store are arriving to find their books all ready for them in an ecofriendly bag. Students who purchase early get first dibs on used books, too.
In fact, bookstore director Sarah Potter '77 sees the store's mission vis-à-vis textbooks as being less about simply providing books than helping students find the best prices possible.
"Our textbook margins are as low as we can make them," she said. "We encourage students to use library reserves, we encourage them to share. There are a lot of creative ways to cover textbook costs."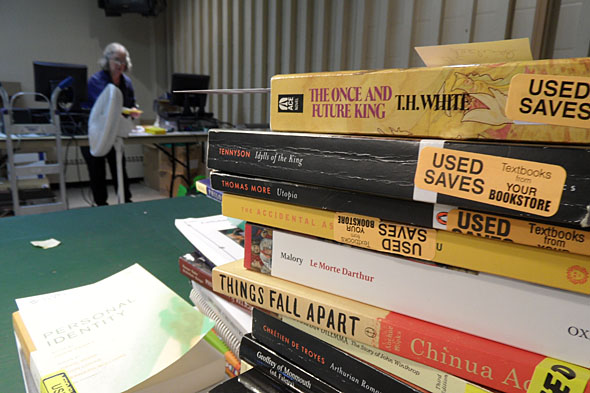 Through an online partner, the store rents textbooks in addition to selling new and used copies (other textbook-rental services are available, too.)
Since July 1, the store's online partner has rented 124 titles to 30 Bates students, numbers that will only grow in the coming weeks.
View Comments