By Doug Hubley. Published on March 12, 2012
---
International Dinner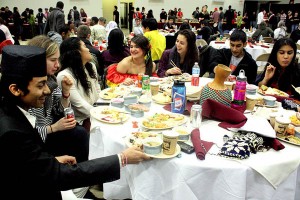 Happy diners thinking globally at the 2012 International Dinner, prepared and served annually by Bates students. The feast took place on March 3 in the Gray Cage. Photograph by Simone Schriger '14.
---
---
Comments are closed.
News & Updates
Bates College will build a new boathouse at the varsity rowing team's...
This is a list of public events at Bates for the period Nov. 1-30, 2014.
Contact Us