By Doug Hubley. Published on March 12, 2012
---
International Dinner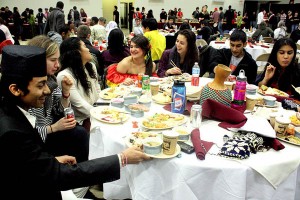 Happy diners thinking globally at the 2012 International Dinner, prepared and served annually by Bates students. The feast took place on March 3 in the Gray Cage. Photograph by Simone Schriger '14.
---
---
Comments are closed.
---
News & Updates
See what they experienced as Bates photographers Sarah Crosby and Phyllis Graber Jensen followed the Class of 2018 from its arrival on Aug. 25...
Rand's scholarship "explores the limits and possibilities of subversion," said Dean of the Faculty Matt Auer.
Contact Us