By Doug Hubley. Published on March 12, 2012
---
International Dinner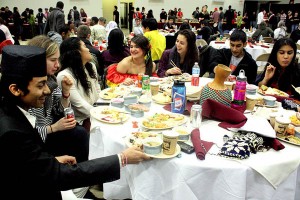 Happy diners thinking globally at the 2012 International Dinner, prepared and served annually by Bates students. The feast took place on March 3 in the Gray Cage. Photograph by Simone Schriger '14.
---
---
Comments are closed.
News & Updates
Physics majors describe the practical application of physics in medicine, the behavior of light, and studies of new states of matter.
New at Bates as an assistant professor of mathematics, Katharine Ott is eager to contribute to Bates' strong track record in bringing more women...
Contact Us