By Doug Hubley. Published on March 20, 2012
---
101016_Mikey_Pasek_9996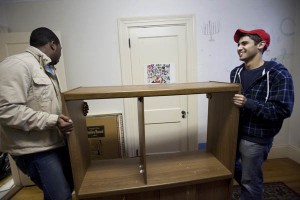 This October 2010 image shows Mikey Pasek '12, right, with Jourdan Fanning '13, left moving furniture in the Office of Intercultural Education, a location that includes space for Bates Hillel. Evette Rios '99, right, on-air designer for the TV show "Rachel Ray," helped students redesign the interior of the building that month.
---
---
Comments are closed.
News & Updates
At halftime of tomorrow's Homecoming football game, Bates will retire the No. 11 baseball jersey worn by William "Chick" Leahey '52 during his 36...
This year's Parents & Family Weekend welcomed a record 1,800 guests, who got up to speed on Bates doings, including the Purposeful Work Initiative
Contact Us