By Doug Hubley. Published on March 20, 2012
---
101016_Mikey_Pasek_9996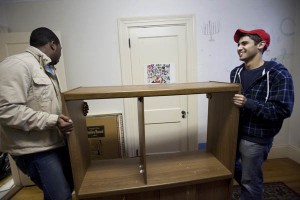 This October 2010 image shows Mikey Pasek '12, right, with Jourdan Fanning '13, left moving furniture in the Office of Intercultural Education, a location that includes space for Bates Hillel. Evette Rios '99, right, on-air designer for the TV show "Rachel Ray," helped students redesign the interior of the building that month.
---
---
Comments are closed.
News & Updates
Marcus Bruce '77 gives a lecture titled "The Ambassadors: W.E.B. Du Bois, The Paris Exposition of 1900 and African American Culture" on Nov. 5.
The major changes, including a homepage redesign, are all about making a website that's easier to use and thus more valuable.
Contact Us