By Doug Hubley. Published on March 20, 2012
---
101016_Mikey_Pasek_9996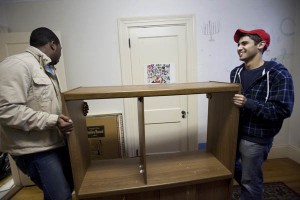 This October 2010 image shows Mikey Pasek '12, right, with Jourdan Fanning '13, left moving furniture in the Office of Intercultural Education, a location that includes space for Bates Hillel. Evette Rios '99, right, on-air designer for the TV show "Rachel Ray," helped students redesign the interior of the building that month.
---
---
Comments are closed.
News & Updates
The style of the play, says director Brooke O'Harra, asks student actors to think "not in terms of character, but instead in terms of...
The Olin Arts Center Concert Hall offers a musical world tour March 13-16.
Do the people you touch make you the person you are? If you are breathing, can your oppressors claim that you do not exist?...
Contact Us