By Doug Hubley. Published on March 20, 2012
---
101016_Mikey_Pasek_9996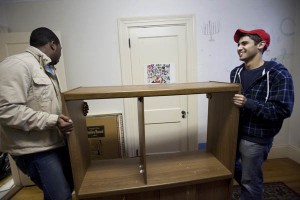 This October 2010 image shows Mikey Pasek '12, right, with Jourdan Fanning '13, left moving furniture in the Office of Intercultural Education, a location that includes space for Bates Hillel. Evette Rios '99, right, on-air designer for the TV show "Rachel Ray," helped students redesign the interior of the building that month.
---
---
Comments are closed.
---
News & Updates
"We have ambitious goals for Bates, and I am inspired by this outpouring of support from the college community," said President Clayton Spencer.
Known for a study of the American focus on winning, Bates sociologist Francesco Duina views the emotional landscape from a different perspective in his...
David Dorfman Dance examines the 1990s underground music scene in "Come, and Back Again" in Bates Dance Festival performances on July 25-26.
Contact Us