By Doug Hubley. Published on March 20, 2012
---
101016_Mikey_Pasek_9996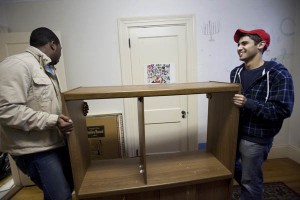 This October 2010 image shows Mikey Pasek '12, right, with Jourdan Fanning '13, left moving furniture in the Office of Intercultural Education, a location that includes space for Bates Hillel. Evette Rios '99, right, on-air designer for the TV show "Rachel Ray," helped students redesign the interior of the building that month.
---
---
Comments are closed.
---
News & Updates
Likening the Bates experience to a voyage of discovery, Dean of the Faculty Matt Auer's 2014 Convocation address was the centerpiece of the midday...
What do Bates dance majors gain by training at the Bates Dance Festival?
Contact Us