By Doug Hubley. Published on March 21, 2012
---
Fambul Tok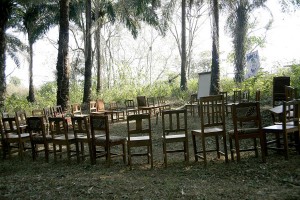 Site of the Community Consultation in Kailahun, where Fambul Tok Staff met with local stakeholders to ask whether they wanted to launch the program in their district. Photograph by Sara Terry.
---
---
Comments are closed.
---
News & Updates
See what they experienced as Bates photographers Sarah Crosby and Phyllis Graber Jensen followed the Class of 2018 from its arrival on Aug. 25...
Rand's scholarship "explores the limits and possibilities of subversion," said Dean of the Faculty Matt Auer.
Contact Us