By Doug Hubley. Published on March 21, 2012
---
Fambul Tok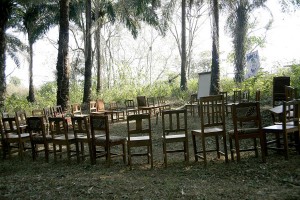 Site of the Community Consultation in Kailahun, where Fambul Tok Staff met with local stakeholders to ask whether they wanted to launch the program in their district. Photograph by Sara Terry.
---
---
Comments are closed.
News & Updates
At halftime of tomorrow's Homecoming football game, Bates will retire the No. 11 baseball jersey worn by William "Chick" Leahey '52 during his 36...
This year's Parents & Family Weekend welcomed a record 1,800 guests, who got up to speed on Bates doings, including the Purposeful Work Initiative
Contact Us