By Doug Hubley. Published on March 22, 2012
---
Mount David Summit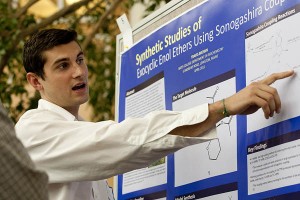 Travis Brown '11 of East Greenwich, R.I., explains his chemistry research at the 2011 Mount David Summit. Photograph by Phyllis Graber Jensen/Bates College.
---
---
Comments are closed.
News & Updates
New at Bates as an assistant professor of biology, Brett Huggett specializes in how trees response to environmental stress.
Bates President Clayton Spencer and Vice President for Student Life and Dean...
Contact Us