By Doug Hubley. Published on March 22, 2012
---
Mount David Summit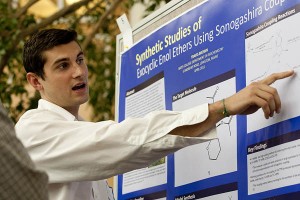 Travis Brown '11 of East Greenwich, R.I., explains his chemistry research at the 2011 Mount David Summit. Photograph by Phyllis Graber Jensen/Bates College.
---
---
Comments are closed.
News & Updates
Bates College will build a new boathouse at the varsity rowing team's...
This is a list of public events at Bates for the period Nov. 1-30, 2014.
Contact Us