By Doug Hubley. Published on March 22, 2012
---
Mount David Summit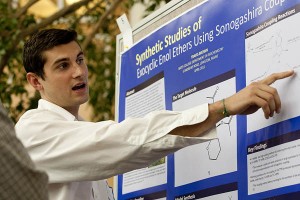 Travis Brown '11 of East Greenwich, R.I., explains his chemistry research at the 2011 Mount David Summit. Photograph by Phyllis Graber Jensen/Bates College.
---
---
Comments are closed.
News & Updates
The style of the play, says director Brooke O'Harra, asks student actors to think "not in terms of character, but instead in terms of...
The Olin Arts Center Concert Hall offers a musical world tour March 13-16.
Do the people you touch make you the person you are? If you are breathing, can your oppressors claim that you do not exist?...
Contact Us