By Doug Hubley. Published on March 22, 2012
---
David Longdon '14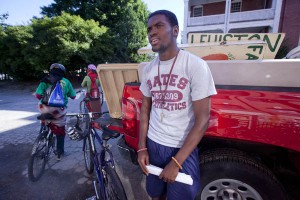 David Longdon '14, a Bates economics major from Accra, Ghana, spent the summer as a leadership intern with Lots to Gardens, a youth-focused organization in Lewiston that uses sustainable urban agriculture to create access to fresh food. Longdon's participation included completing an associated research project in his role as a Community-Based Research Fellow with the college's Harward Center for Community Partnerships. Photograph by Phyllis Graber Jensen/Bates College.
---
---
Comments are closed.
---
News & Updates
by Katherine Courtney '16
The Ronj Coffeehouse is back and open for business. This year, the student-run gathering spot is offering expanded hours, new menu selections and reinvented...
Harward Center Civic Forums at Bates College in October explore the role of immigration in Maine's economy; and a historic effort to redress problems...
Contact Us