By Doug Hubley. Published on March 22, 2012
---
David Longdon '14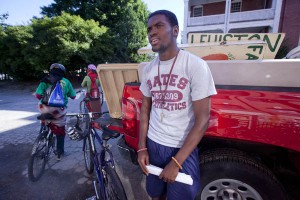 David Longdon '14, a Bates economics major from Accra, Ghana, spent the summer as a leadership intern with Lots to Gardens, a youth-focused organization in Lewiston that uses sustainable urban agriculture to create access to fresh food. Longdon's participation included completing an associated research project in his role as a Community-Based Research Fellow with the college's Harward Center for Community Partnerships. Photograph by Phyllis Graber Jensen/Bates College.
---
---
Comments are closed.
News & Updates
Images that feature the vitality of life on the Bates campus
"What I was doing to create a dance stemmed from fieldwork that was anthropological and choreographic," says Colleen Fitzgerald '14, who choreographed "Intricate Glances...
Bates holds its annual Service of Lessons and Carols on Dec. 8.
Contact Us