By Hallie Balcomb. Published on June 4, 2012
---
HCCP-Elliott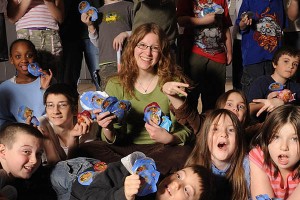 One of three Bates students to receive 2012 Harward Center student awards for community-based academic work, Catherine Elliott '12 first made a splash at Bates by collecting enough yogurt lids to win a contest benefiting the local Boys & Girls Club.
---
---
Comments are closed.
---
News & Updates
"We have ambitious goals for Bates, and I am inspired by this outpouring of support from the college community," said President Clayton Spencer.
Brenna Callahan '15 inspires a love of reading in young students with Project Story Boost.
Coming up at the Bates Dance Festival are the popular Musicians' Concert and a pair of performances exploring changing times in South Africa and...
Contact Us