By Hallie Balcomb. Published on June 4, 2012
---
HCCP-Elliott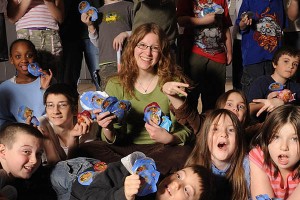 One of three Bates students to receive 2012 Harward Center student awards for community-based academic work, Catherine Elliott '12 first made a splash at Bates by collecting enough yogurt lids to win a contest benefiting the local Boys & Girls Club.
---
---
Comments are closed.
---
News & Updates
See what they experienced as Bates photographers Sarah Crosby and Phyllis Graber Jensen followed the Class of 2018 from its arrival on Aug. 25...
Rand's scholarship "explores the limits and possibilities of subversion," said Dean of the Faculty Matt Auer.
Contact Us