By Jay Burns. Published on March 13, 2013
---
E5 – 027-202376560903 adj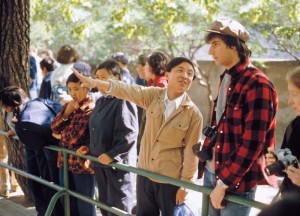 In 1981, Paul Marks '83 listens to the Bates guide, Mr. Xu, who bet Marks that he couldn't learn Chinese.
Photograph by Steve Stone '83.
---
---
Leave a Reply
This is a forum for sharing your thoughts about the preceding post with the public. If you have a question for the author, please email the Bates Communications Office at
communications@bates.edu.
News & Updates
The style of the play, says director Brooke O'Harra, asks student actors to think "not in terms of character, but instead in terms of...
The Olin Arts Center Concert Hall offers a musical world tour March 13-16.
Do the people you touch make you the person you are? If you are breathing, can your oppressors claim that you do not exist?...
Contact Us