By Jay Burns. Published on March 13, 2013
---
E5 – 027-202376560903 adj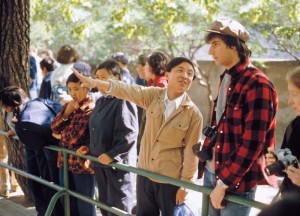 In 1981, Paul Marks '83 listens to the Bates guide, Mr. Xu, who bet Marks that he couldn't learn Chinese.
Photograph by Steve Stone '83.
---
---
Leave a Reply
This is a forum for sharing your thoughts about the preceding post with the public. If you have a question for the author, please email the Bates Communications Office at
communications@bates.edu.
News & Updates
At halftime of tomorrow's Homecoming football game, Bates will retire the No....
New at Bates as an assistant professor of biology, Brett Huggett specializes in how trees response to environmental stress.
Contact Us