By Jay Burns. Published on March 13, 2013
---
E5 – 027-202376560903 adj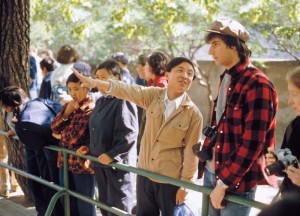 In 1981, Paul Marks '83 listens to the Bates guide, Mr. Xu, who bet Marks that he couldn't learn Chinese.
Photograph by Steve Stone '83.
---
---
Leave a Reply
This is a forum for sharing your thoughts about the preceding post with the public. If you have a question for the author, please email the Bates Communications Office at
communications@bates.edu.
---
News & Updates
"We have ambitious goals for Bates, and I am inspired by this outpouring of support from the college community," said President Clayton Spencer.
Coming up at the Bates Dance Festival are the popular Musicians' Concert and a pair of performances exploring changing times in South Africa and...
Thanks to funding from a partnership of institutions in Maine, Bates will receive more than $459,000 this year to support biomedical research.
Contact Us