By Victoria Stanton. Published on June 18, 2012
---
CITchipmansP061712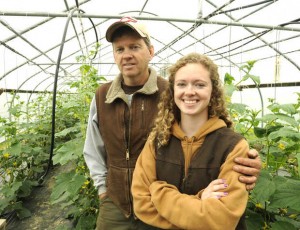 Tomi Chipman '14 stands with her father, Doug, in one of their greenhouses in Poland. Photograph by Jose Leiva/Sun Journal.
---
---
Comments are closed.
News & Updates
A Davis Project for Peace award has gone to seniors Simone Schriger and Devin Tatro to support an initiative in Rwanda to support children...
"The exhibition is part of how we help returning students reconnect to the Bates community," says David Das.
Contact Us