Kate Weare Company returns to dance festival with arresting new piece
Using dance to plumb the depths and dimensions of human relationships, Kate Weare and her company present their striking new "Garden," along with established works, in Bates Dance Festival performances at 8 p.m. Friday, July 27, and Saturday, July 28, in Bates College's Schaeffer Theatre, 305 College St.
Tickets cost $24 for the general public, $18 for seniors and $12 for students. For more information or to purchase tickets online, please visit the festival website.
Tickets are also available by phone at 207-786-6161, or by mail or in person; learn more.
The company offers a free lecture-demonstration at 7:30 p.m. Tuesday, July 24, in Schaeffer. A discussion with Weare and her dancers immediately follows the July 27 performance. Dance writer Debra Cash offers an Inside Dance: Understanding Contemporary Performance lecture prior to the July 28 performance, at 7:15 p.m. in Schaeffer.
The Bates Dance Festival, an annual summer series of renowned contemporary dance, celebrates its 30th anniversary by highlighting choreographers whose creative development has been nurtured by the festival.
Founded in 1982, the acclaimed festival brings together an international community of contemporary dance choreographers, performers, educators and students in a cooperative community to study, perform and create new work.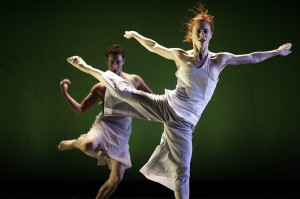 At Bates, in addition to "Garden," Kate Weare Company will perform Weare's 2006 piece, "The Light Has Not the Arms to Carry Us," and an excerpt from 2011's "Bright Land."
Weare's dance merges formal choreography with visceral interpretations of contemporary views of intimacy. In the words of a New York Times writer, she "creates dances that seek to merge the mind and the gut through the power and persuasiveness of the moving body.
"With both rawness and precision, she maps a humanism that is contemporary, disquieting and profoundly stirring."
"Garden" draws upon primitive issues of origination, collective identity and safety amid the uncontrollable natural world. In it, two men and two women frolic, flirt and fight in the unknown, depicting a world of sensuality and innocence disturbed by dark undercurrents. (The work is suitable for audiences of all ages.)
Weare has been commissioned by dance ensembles around the world, including the AXIS Dance Company of Oakland, Calif., the Scottish Dance Theatre, Australia's Buzz Dance Theatre and CityDance Ensemble. Last seen at the Bates Dance Festival in 2009, Weare and company will begin developing their next work, "Dark Lark," during this summer's residency.