Summer Newsletter 2012: Security and Campus Safety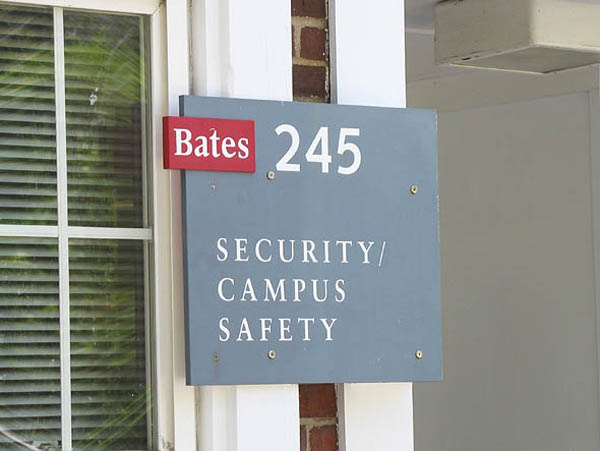 We are here to help.
Security and Campus Safety is open 24 hours a day, seven days a week, for your safety. Officers will assist you at all hours of the day and night no matter of the severity or magnitude of the call.
We recommend you take a minute and put the following numbers into your cell phone should they be needed:
Security and Campus Safety front desk: 207-786-6254
Emergency Line and Bates EMS Dispatch: 207-786-6111.
Driver Certification: Any student, or faculty and staff member under the age of 25, who wishes  to operate a Bates-owned, -rented or -leased vehicle and has completed the Driver Certification class within the past three academic years must provide Security each academic year a new copy of their motor vehicle driving record.
The record can be obtained from the motor vehicles bureau of their home state. Additionally, any student, or faculty and staff member under age 25, who has not taken the certification class to become eligible to drive a College vehicle should visit the Driver Training website.
Parking Information: College parking information can be found on the Security website.
Bicycles on Campus: Bicycle theft remains a common problem on and around campus. Please remember to ALWAYS secure your bicycle with a bicycle lock to one of the many bicycle racks provided on campus. NEVER leave a bicycle unsecured!
We also recommend registering your bicycle with Security and Campus Safety. This will provide us with needed information should the bicycle be stolen or lost, and will provide you with a registration decal to place on your bicycle. Please stop by the Communications Center at the Security Office anytime to complete the registration.
---
Next: Student Activities (Newsletter Update)
Previous: Registrar and Academic Systems (Newsletter Update)