Pettigrew Hall closed for repairs after flooding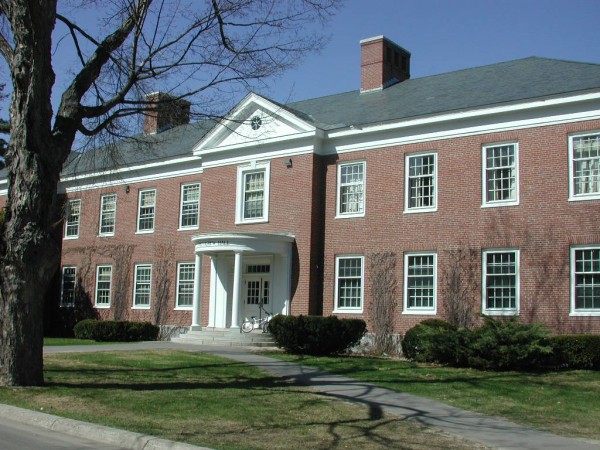 Bates College has temporarily closed Pettigrew Hall, a classroom and office building that has been in service since 1953, to conduct repairs and remediation after a Feb. 9 flooding incident.
The flooding, triggered by an act of vandalism, resulted in damage to floors, walls, carpets and furniture throughout Pettigrew. Significant parts of the college's network infrastructure and equipment in the media studios were damaged, and the building is affected by heightened humidity.
Bates President Clayton Spencer shared news of the incident in a Feb. 13 email to the campus community, outlining the extent of the damage and citing "an extreme breach of community values."
Douglas Ginevan, assistant vice president for financial planning and analysis at Bates, is overseeing the project to repair and remediate Pettigrew. "Fortunately, insurance should cover most, if not all, of the expense involved in equipment replacement as well as repair and remediation of the building," Ginevan said.
Remediation has begun, with specific attention to removal of water-damaged building materials, along with air monitoring, in accordance with all applicable federal and state regulations. McCarthy Environmental Service of Winthrop, Maine, which has worked with Bates for more than 15 years, is overseeing this aspect of the project, along with veteran Bates environmental health and safety specialist James Guzelian.
Faculty and staff members housed in Pettigrew and classes that met in the building have been relocated temporarily, including members of the Information and Library Services (ILS) staff. The ILS loaner pool of computers and other digital equipment, as well as the digital-media editing suites and the Mac computer lab, have been relocated as well.
The student responsible for the incident has stepped forward and the college's confidential disciplinary process has been initiated. The incident is also under investigation by the Lewiston Police Department.
For relocation information and any further updates, please visit Pettigrew Project.
View Comments