Campus events: Updates for May 19–30, 2017
Hello from Bates!
This is an updated listing of public events at the college from May 19 through May 30, 2017.
Changes since previous editions:
L/A in L-A, a theatrical production in performances May 19–21, has been added.
Caroline Alexander talks about translating The Iliad in an event added for May 22.
Rupert Ross talks about native people's wisdom and restorative justice in an event added for May 23.
The public is invited to these events. Except as noted, admission is free.
Want the latest events information? Visit the daily Events page.
Can't attend the game? Watch the livestream:
Go to athletics.bates.edu
Click the "Upcoming Events" tab
Find your event and click the "Video" link (not all games are available on video).
Questions or comments? Contact events editor Doug Hubley at calendar@bates.edu.
---
Recurring Events
Taking place while Bates is in session. Please confirm before you go.
4:15pm Mon–Fri | Buddhist meditation led by the Dharma Society. Beginners welcome. FMI 207-786-8272.
Gomes Chapel
12:15pm Mon | Noontime meditation: Different teachers bring different practices to this meditation circle each week. Beginners welcome. FMI 207-786-8272.
Gomes Chapel
6pm Wed | Life drawing with the Museum of Art: Dry-media easels and drawing benches provided, bring drawing board and supplies. $10/$9 museum members. FMI 207-786-8302.
Olin 259
10am Sun | Quaker meeting presented by the Lewiston Friends. FMI 207-786-8272.
163 Wood St.
4pm Sun | Bates Christian Fellowship chapel service with gospel singing, preceded by prayer time at 3pm. FMI 207-786-8272.
Gomes Chapel
6pm Sun | Community Sit: This hourlong gathering of a community of meditators offers mutual support through meditation and loving kindness, periodically varying its practice and sharing experiences with meditation. FMI cperlman@bates.edu.
Gomes Chapel
---
19 Fri
7:30pm | L/A in L-A: Brooklyn-based director Peter Richards helms a devised performance based on the fabled Sonny Liston–Muhammad Ali championship boxing match held in Lewiston in 1965. Catherine Morse '17, Colby Harrison '17 and Samuel Hersh '18 created and are performing the piece for a Short Term theater production workshop. FMI 207-786-6161.
Pettigrew Hall, Gannett Theater
8pm | Music of West Java, Indonesia: A program of traditional and contemporary music performed on Bates' gamelan instruments by students in the course "Performing Musical Art of Indonesia." Special guests are Een Herdiani, a dancer and director of a conservatory for the arts in West Java; and Undang Sumarna, a master drummer who teaches West Javanese gamelan at the University of California, Santa Cruz. Free, but tickets required: batesconcerts.eventbrite.com. FMI 207-786-6135 or olinarts@bates.edu.
Olin Concert Hall
---
20 Sat
7:30pm | L/A in L-A (see May 19).
Pettigrew Hall, Gannett Theater
---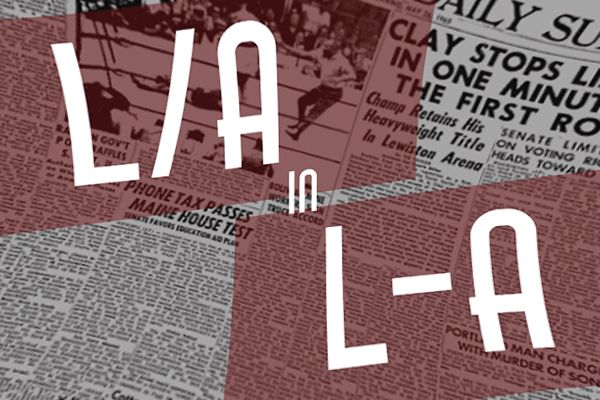 21 Sun
5pm | L/A in L-A (see May 19).
Pettigrew Hall, Gannett Theater
---
22 Mon
4pm | Scholar Tea: Charif Shanahan: The English department's Scholar Tea series presents a reading and Q&A with acclaimed poet Shanahan, author of Into Each Room We Enter Without Knowing. FMI tpickens@bates.edu or 207-786-6420.
Commons 226
4:15pm | A Way With Words: On Translating Homer's "Iliad." A talk by Caroline Alexander, author of the bestselling The Endurance: Shackleton's Legendary Antarctic Expedition. Her 2015 translation of The Iliad has been praised as "unembellished, faithful to the Greek, and uniquely accessible." Sponsored by the classical and medieval studies program and the Costas and Mary Maliotis Foundation. FMI dbegin@bates.edu.
Hedge 106
---
23 Tue
7pm | Humankind and the Natural Order: Drawing upon long experience with indigenous people during his career as a public prosecutor, Rupert Ross developed a different vision of the relationship between humankind and the natural order, and found a different understanding of restorative justice. This presentation explores those concepts and how they shape approaches to justice that transform into truly restorative processes. Presented by the Bates Purposeful Work Practitioner Taught Course in Mediation and Restorative Justice. FMI mcowan@bates.edu.
Pettengill G52
---
24 Wed
4pm | Short Term Curricular Innovation Showcase: An annual presentation of intensive practical collaborations that are transforming teaching at Bates. In Course (Re)design projects, students and faculty work side by side to redesign learning experiences of great meaning to them. Meanwhile, visiting Short Term Practitioners from all corners of industry bring skills and expertise to enhance the applicability of the Bates education to a life of meaningful work. FMI mcowan@bates.edu.
Pettengill Hall, Perry Atrium
7:30pm | Short Term Recital: Students in the Short Term course "Performance in Western Classical Music," taught by Christy Thomas, perform a program TBA. Free but tickets required: batesconcerts.eventbrite.com. FMI 207-786-6135 or acarr@bates.edu.
Olin Concert Hall
---
25 Thu
7:30pm | Strange Bedfellows: Bates' only improv comedy group presents its final show of the year and celebrates graduating seniors Will Koller, Whitney Lees and Dan Peeples. FMI ierickso@bates.edu.
Chase Hall B18
---
28 Sun
10am | Commencement: Giving the keynote address at Bates' 151st graduation ceremony is honorary degree recipient Geoffrey Canada, an educator nationally known for his work with the Harlem Children's Zone. Also receiving honorary degrees are U.S. Sen. Susan Collins, art historian Wanda Corn '62 and actor Patrick Dempsey.
Historic Quad
---
30 Tue
7pm | Zen Meditation: A traditional Zen sit with Bates Associated Buddhist Chaplain Heiku Jaime McLeod. Beginners welcome. FMI 207-786-8272.
Gomes Chapel
---
Museum of Art
Through May 27, 2017
Senior Thesis Exhibition 2017: The museum's relationship with the Department of Art and Visual Culture entails a commitment to supporting the work of Bates students through this exhibition showcasing work in diverse media from the thesis projects of graduating studio art majors — 17 this year. The program emphasizes the creation of a cohesive body of work through sustained studio practice and critical inquiry.
View Comments