Posts by Bates News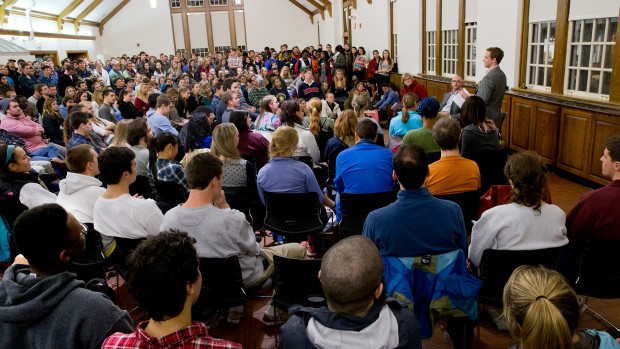 Bates President Clayton Spencer and Vice President for Student Life and Dean…
---
Published on
Description

October 23, 2014
4:24 pm

Bates President Clayton Spencer and Vice President for Student Life and Dean of Students Joshua McIntosh met in an open…

October 23, 2014
2:05 pm

Dancers, actors, musicians and improv comics offer a smorgasbord of performing arts in the annual Bates Arts in Action concert on Oct. 25.

October 23, 2014
1:55 pm

Eclectic Maine-based musicians Jonathan Edwards ("Sunshine") and Don Campbell share the Olin Concert Hall stage at Bates College on Oct. 25.

October 15, 2014
10:54 am

An author, scholar and rabbi, Jay Michaelson discusses optimum ways to discuss Israel and Palestine in campus settings on Oct. 29.

October 13, 2014
9:58 am

Jazz pianist Marcus Roberts and his combo return to Bates College on Oct. 19. Maine musicians Jonathan Edwards and Don Campbell share the Olin Arts Center stage on Oct. 25.

October 10, 2014
12:00 pm

This time of year it's so busy that you're breathless, so beautiful you gasp. It's Bates.

October 7, 2014
4:26 pm

One of the most diverse performance programs in Bates College dance, the Parents & Family Weekend Dance Concert takes place Oct. 11-12.

October 7, 2014
9:05 am

Frank Glazer, a pianist of international renown and a Bates College artist in residence, performs sonatas by Beethoven, including some of the composer's best-loved, on Oct. 10.

October 3, 2014
12:21 pm

Watch the Oct. 3 livestream of a "Conversation with Clayton," featuring President Spencer interviewing Thomas Goetz '90, author of The Remedy, the Common Read for the Class of 2018.

September 26, 2014
3:21 pm

Harward Center Civic Forums at Bates College in October explore the role of immigration in Maine's economy; and a historic effort to redress problems created by government policies toward Native American children.