Posts by Doug Hubley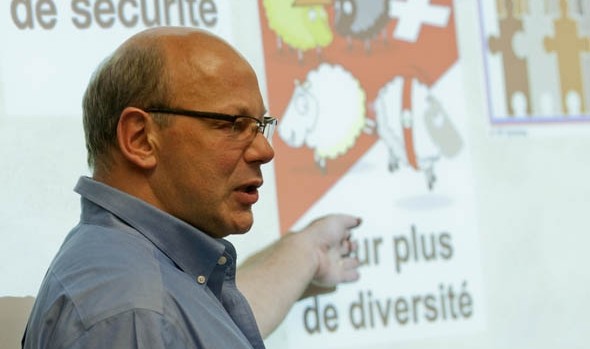 Bates' global reach has been a driving theme behind Open to the…
---
Published on
Description

October 31, 2011
6:03 pm

Bates' global reach has been a driving theme behind Open to the World: Bates Celebrates Unbounded Learning, a celebration of…

October 31, 2011
5:18 pm

In Austin, Texas, Rose Levy-Rubinett '12 grew up in a household where family history and Judaism were fused into a…

October 11, 2011
2:54 pm

While physicists have been able for decades to measure the spin state of a single atom in a vacuum, previous techniques for measuring the spin of a single electron or nucleus in a solid state disturb surrounding spins. Now researchers including Lilian Childress, assistant professor of physics at Bates, have developed a way to measure spin that avoids this problem.

October 10, 2011
1:18 pm

On an October day that could have passed for August, Bates marked the 25th anniversary of its Olin Arts Center with a family arts festival. And while the attractions included a marching band, popcorn, balloon animals and juggling, the festivity was much more than just another day at the circus. The headliners, avant-garde marching band Asphalt Orchestra and the New Vaudeville act Two, managed both to honor the long traditions they represent and to show them in a new light.

October 7, 2011
10:56 am

George Mitchell, the former U.S. senator delivers the keynote address during a weeklong celebration of international and interdisciplinary education at Bates

October 7, 2011
10:49 am

More about "Bates Unbounded: Open to the World" speakers Gary Hirshberg, Paul Marks '83 and U.S. Sen. George Mitchell.

September 15, 2011
10:44 am

Hello from Bates! Here's an refreshed preview of public events at the college Sept. 15-30, 2011. This schedule includes events added since the first September edition, and corrections and updates to the earlier edition.

September 9, 2011
3:28 pm

Bates President Nancy J. Cable has announced that the Bates Board of Trustees recently elected three new members.

September 8, 2011
4:53 pm

One in four of the international students coming to Bates experienced some sort of delay due to Hurricane Irene, estimated…

September 7, 2011
3:59 pm

"Become a sociologist of conscience, or perhaps an archeologist of culture," the Bates College Class of 2015 was told as the new academic year began — in other words, this is your time to understand, and redefine, the social norms that guide us through life.