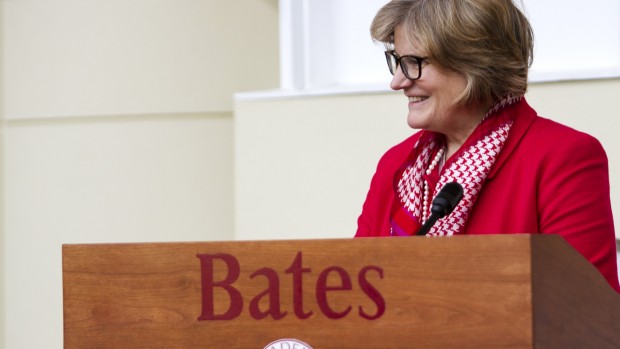 "We have ambitious goals for Bates, and I am inspired by this outpouring of support from the college community," said President Clayton Spencer.
Published on
Description

---

October 1, 2012
1:47 pm

Up next in a series of talks connected with the Bates College Museum of Art exhibition "Starstruck" are presentations by an astronomer from Yale and by an artist showing work in the show.

August 29, 2012
8:58 am

The Bates College Museum of Art presents lectures, star-viewing parties and other public programs throughout the autumn in conjunction with the remarkable exhibition "Starstruck: The Fine Art of Astrophotography."

August 15, 2012
11:31 am

Third in a series, Travis Jones '13 explores architectural spaces in New York City.

July 24, 2012
3:45 pm

The Royal Gazette of Bermuda explores the world of juggler and comic Brent McCoy '03 by visiting his show at…

June 6, 2012
3:49 pm

The headlining exhibition at the Museum of Art this summer, "Starstruck: The Fine Art of Astrophotography" is among the first major exhibitions examining astrophotography as an art genre.

May 21, 2012
7:22 am

The Lewiston-Auburn 911 Communication Center is a cheerier workplace thanks to two student artists from Bates.

May 2, 2012
2:47 pm

The major German newspaper Berlin Zeitung reviewed a gallery exhibition in Berlin by Robert Feintuch, a member of the Bates art faculty.

March 23, 2012
3:55 pm

In media running the gamut from pencil drawing to digital painting, 14 studio art majors show work from their yearlong thesis projects in the annual Senior Exhibition.

February 15, 2012
1:50 pm

The Bates College arts outreach program "Rollin' to Olin" resumes this month.

February 2, 2012
3:59 pm

Renowned photographer Dawoud Bey discusses his work on Feb. 15 in the Mays Center.