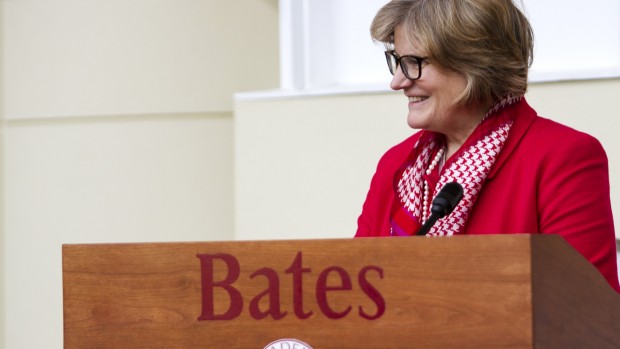 "We have ambitious goals for Bates, and I am inspired by this outpouring of support from the college community," said President Clayton Spencer.
Published on
Description

---

July 14, 2007
10:31 am

Kicking off the Bates Dance Festival's 25th anniversary season, Victor Quijada's Montreal-based Rubberbandance Group (RBDG) performs an evening of new works Saturday, July 14, in Schaeffer Theatre, 305 College St.

July 14, 2007
10:24 am

A Bates Dance Festival favorite, David Dorfman Dance returns to Maine with underground, a compelling and provocative exploration of political activism. The festival presents David Dorfman Dance Friday and Saturday, July 20 and 21, in Schaeffer Theatre, 305 College St., Bates College.

July 5, 2007
10:43 am

Celebrating 25 years of offering contemporary dance training, commissioning and performance, the Bates Dance Festival announces its 25th anniversary performance season, July 7 through Aug. 11, 2007, on the campus of Bates College.

May 28, 2007
12:00 pm

Dance performance by Meredith Sallee and Fisher Qua, with choreography by Sarah McCormick, camera by Craig Saddlemire and Kristen Carey, and video production by Bill Matthew.

May 21, 2007
12:25 pm

With its centerpiece a giant painting that depicts Brooklyn after millennia of global warming, an exhibition exploring the concept of environmental sustainability opens on June 9 at the Bates College Museum of Art, 75 Russell St. "Green Horizons" will present prominent artists from Maine and the world in an adventurous attempt to provoke conversations around the questions: What is green? What is sustainable?

March 27, 2007
2:14 pm

Performing two separate programs twice, the Bates College Modern Dance Company presents the results of an innovative collaboration with theatrical lighting designers Friday, March 30, through Monday, April 2.

November 9, 2005
3:23 pm

Saturday brings something of a cultural feast on the Bates campus, with performances by the Bates College Orchestra, former Phish guitarist Trey Anastasio and the Modern Dance Company — which also performs Sunday and Monday.

October 7, 2004
1:58 pm

The Bates College Museum of Art installation "From Middle Kingdom to Biological Millennium," by Chinese artist Wenda Gu, closes with a reception and a performance piece by Gu at 7:30 p.m. Saturday, Oct. 9, in the Olin Arts Center, 75 Russell St. The event takes place during Parents and Family Weekend at Bates.

May 3, 2004
11:19 am

More than 150 alumni of the Bates College Modern Dance Company came from as far away as Japan to take part in a May 1 dance performance marking the company's 35th anniversary and honoring company founder Marcy Plavin.

April 16, 2004
9:35 am

More than 100 Bates College alumni will return to campus from all over the country to attend or take part in a performance marking the 35th anniversary of the college's Modern Dance Company. Beginning at 8 p.m. Saturday, May 1, in Schaeffer Theatre, 305 College Street, "The Alumni Concert" is open to the public at no charge.