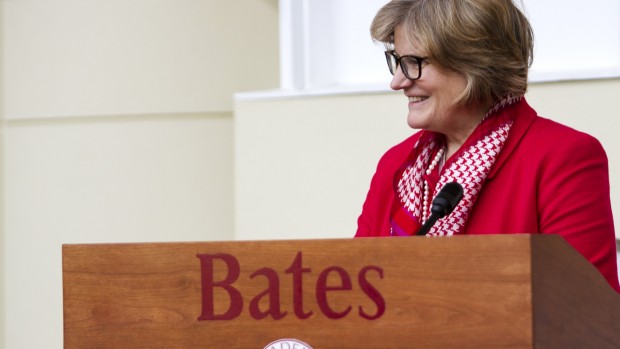 "We have ambitious goals for Bates, and I am inspired by this outpouring of support from the college community," said President Clayton Spencer.
Published on
Description

---

July 10, 2013
1:10 pm

Nejla Yatkin / NY2Dance opens the Bates Dance Festival performance series with the Maine premiere of "Oasis" on July 12.

May 23, 2013
2:46 pm

Faculty from Bates and Colby colleges perform the Maine premiere of a piece by Philadelphia's Headlong Dance Theater on May 28-29.

May 10, 2013
9:50 am

Choreographer and dancer Erin Gottwald '98 joins rapper, writer, actor and director Postell Pringle '98 to lead longstanding Short Term unit "Tour Teach Perform."

April 15, 2013
1:18 pm

Travis Jones '13, a double major in art and visual culture, and theater, with a minor in dance and a…

March 26, 2013
10:54 am

Featuring aerial performances and works making use of video, the Bates College Dance Company offers its annual spring concerts March 29-April 1.

February 22, 2013
8:41 am

The annual F.A.B. Winter Dance Showcase takes place Saturday, March 2, at the Franco-American Heritage Center in Lewiston.

January 31, 2013
4:18 pm

The eighth annual F.A.B. Winter Dance Showcase, featuring artists from Bates, elsewhere in Lewiston-Auburn and beyond, takes place March 2 at the Franco-American Heritage Center.

January 29, 2013
10:46 am

In its third year in 2013, the Arts Crawl at Bates has become a signature event, a campus tour that showcases student expressive work across disciplines.

January 18, 2013
4:27 pm

A kaleidoscope of student creativity in the visual, literary and performing arts, Bates' third annual Arts Crawl takes place Friday, Jan. 25.

January 14, 2013
1:14 pm

Victoria Lowe '12 discusses her Short Term dance experience and her goal of advancing arts education in the schools.