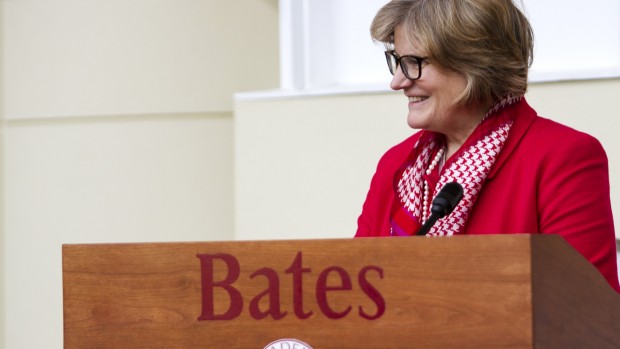 "We have ambitious goals for Bates, and I am inspired by this outpouring of support from the college community," said President Clayton Spencer.
Published on
Description

---

October 21, 2009
4:12 pm

Barbara Byers '10, a resident of Elkins, W.V., offered a performance native to West Java, Indonesia as part of an Oct. 7 presentation on student experiences made possible by the Phillips Student Fellowship program at Bates. Also presenting was Chomba Kaluba '10, originally from Mpika, Zambia, and now a resident of Long Island, Maine.

October 15, 2009
7:04 am

In its first-ever concert held during the academic year, the internationally acclaimed Bates Dance Festival collaborates with the Bates College Concerts Committee to present "Beautiful Me" by the renowned South African company Vuyani Dance Theatre Project.

September 30, 2009
3:13 pm

Bates faculty members are active scholars, and many receive external grants to support their scholarship. Faculty in fields as diverse…

September 30, 2009
12:20 pm

The Bates College Modern Dance Company offers public performances at noon Saturday and Sunday, Oct. 3 and 4, in Schaeffer Theatre, 305 College St.

August 11, 2009
2:44 pm

A mini documentary introducing the four components of the Bates Dance Festival: The Young Dancers Workshop; The Professional Training Program; The Youth Arts Program; The Presenting Series.

July 7, 2009
8:33 am

If you had your druthers, what would be your favorite way to learn about arts and entertainment events in the Lewiston-Auburn region? That's what Bates and a number of local organizations would like to know. And we're hoping you'll tell us.

May 1, 2009
11:53 am

From left, Barbara Byers '10, Kate Taylor '11, Kaitlin Webber '11 and Megan Fahey '11 perform "Routine Facade" choreographed by Claire Parker '11 for a dance composition course taught by Assistant Professor of Dance Carol Dilley.

April 1, 2009
4:01 pm

The Bates College Modern Dance Company offers "Departure Point," its annual spring concert of new works, in four performances from April 3 through April 6. The Friday performance follows the Mount David Summit, Bates' annual showcase of student achievement in academics, creative work and community-based research.

November 12, 2008
12:00 pm

Choreographers Janis Brenner of New York City, Kellie Lynch of Connecticut and Tania Isaac of Philadelphia have developed dances with Bates students in the course "Dance Repertory Performance."

October 1, 2008
12:00 pm

Dances created by students and by visiting choregrapher Kellie Lynch are on the program for a Bates College Modern Dance Company concert.